Huron Consulting Group: From The Ashes Of Andersen
Gary E. Holdren may never forgive federal prosecutors for putting his old firm, Arthur Andersen, out of business. He had spent nearly 30 years at the firm, joining right out of college in 1972. But that crushing 2002 move may turn out to be the best thing that ever happened to him and the other ex-Andersenites who put out their own shingle as Huron Consulting Group Inc. (HURN ) "It's very difficult for me to say that something is a blessing when it was such a bad thing for so many people," says the Huron chief executive officer.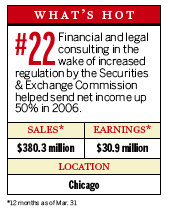 Over the past five years, Holdren, 57, and his team have built a miniature version of the $1 billion-a-year consulting operations at Andersen. In a perverse twist of fate, Huron's phoenix-like ascent is largely thanks to the same Enron-inspired regulatory zeal that did in Andersen. Andersen was indicted in March, 2002, for obstructing justice by shredding documents linked to client Enron Corp. A swift conviction by a Houston jury was overturned by the Supreme Court in 2005. But by that time the firm was finished, and its 28,000 U.S. staffers had lost their jobs in the wake of what some criticized as regulatory overkill. Most of Andersen's consulting staff, some 1,400, went to KPMG Consulting.
Since Holdren lined up the financing on St. Patrick's Day in 2002, Huron has grown from a couple hundred hungry outcasts mourning the loss of their corporate home to a company that employs more than 1,200 staffers. The Chicago group, with headquarters a few blocks from Andersen's old digs, boosted its net income 50% last year, to $26.7 million, as revenues rose 39%, to $288.6 million. Impressed investors have pushed the upstart's market value above $1 billion.
The cadre of Andersen refugees and their colleagues now help companies deal with a welter of litigation and regulatory issues. Huron assists companies in probing allegations of misdoings in stock options, for instance, and guides them on meeting Sarbanes-Oxley requirements. A fast-growing part of the business involves retrieving e-mail records for companies in litigation. "It's a big irony," observes securities lawyer Jeffrey B. Rudman of Wilmer Cutler Pickering Hale & Dorr, who has worked with Huron on a number of cases. "They are now the beneficiaries of the regulatory environment." To make sure it maintains a diverse mix of business, Huron also advises universities and hospitals on financial issues and helps companies value operations for acquisitions.
Huron got its start advising a high-profile company, United Airlines, throughout its bankruptcy. That was a windfall bit of business worth some $30 million. It came in through Holdren's contacts with executives he got to know at United when it was an Andersen client. Since then, Huron's work has both helped exonerate executives and served to highlight mismanagement. Early last year, in work it did for law firm Paul, Weiss, Rifkind, Wharton & Garrison, Huron faulted housing finance giant Fannie Mae (FNM ) for "grossly inadequate" accounting systems, adding that executives had knowingly departed from generally accepted accounting practices. Regulators had accused Fannie Mae of manipulating its earnings for years, spurring a management shakeup.
Huron's blistering findings formed a large part of a report by Paul Weiss to a committee of Fannie Mae's board of directors. "The information that we received from Huron was information we could depend on," says former New Hampshire Senator Warren B. Rudman, who directed the probe for the law firm and had shared results regularly with regulators over two years. The Securities & Exchange Commission ultimately accused the mortgage giant of fraud; Fannie Mae agreed to a $400 million penalty without admitting or denying wrongdoing.
For such a veteran of the corporate world, Holdren had little trouble shifting into startup mode. He had been a senior partner at Arthur Andersen, the U.S. arm of Andersen Worldwide, and served on Andersen Worldwide's U.S. management committee and executive council. But the entrepreneur's son had long hankered to run his own business. He describes his old role at Andersen as "an entrepreneur with protection," starting and for a time helping to lead the company's consulting unit. That echoed his days as a teenager helping his father, Gene, sell auto parts out of the back of a station wagon in southern Ohio. With his mother, Audrey, pitching in, the business mushroomed into a multimillion-dollar warehouse and retailing operation. Even while working at Andersen, Holdren says, "I wanted to follow in their footsteps." Huron—and, of course, the Justice Dept.—gave him that chance.
By Joseph Weber
Before it's here, it's on the Bloomberg Terminal.
LEARN MORE