Don't Fret About This Housing Number
The April plunge in housing permits stoked fears that the decline in residential building may not let up this summer. But there are good reasons to discount the latest drop in permits and to expect the economic drag from housing to begin to diminish.
Authorizations to build a new home are often viewed as a more reliable leading indicator of future housing activity than the more publicized numbers on home starts. The logic is that bad weather can delay starts, making the data more volatile from month to month. That's why the 6% drop in April permits for single-family homes caused a stir, even though housing starts improved.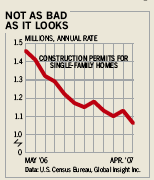 The authorizations data, however, should be interpreted more cautiously right now. Builders are holding a large number of permits for construction not yet begun. The accumulation occurred during the boom, and builders are now drawing down on those backlogs. Several times in the past year "starts and permits seemed out of line with one another because builders drew down their backlog of permits," says Michael Moran, chief economist at Daiwa Securities America. That seems to be the case in April, as authorizations for construction yet to begin fell 6.1%.
What's more, permits are not a reliable leading indicator of starts. In 2006, construction of single-family homes began within the same or following month for 80% of the permits issued. The buildup of authorizations could further muddy the relationship, as new housing starts could pick up sooner than permits, says Moran. That could further limit any usefulness permits have as a leading indicator.
Therefore, home starts, which have shown signs of stabilizing recently, may be the better indicator right now. Moran expects the subtraction from real GDP growth due to residential construction to lessen to only half a percentage point in the third quarter, from a full point in the first quarter. And as the housing drag dissipates, the strength in the rest of the economy will become apparent.
By James Mehring
Before it's here, it's on the Bloomberg Terminal.
LEARN MORE