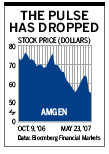 When it rains, it pours. And there has been a deluge of bad news at biotech Amgen (AMGN ), whose stock tumbled from 65 on May 1 to 54.74 on May 23. It had hit 76 in January. Regulators have found that Amgen's blockbuster anemia drugs, Epogen and Aranesp, may increase heart risks and tumor growth in high doses. On May 10, a Food & Drug Administration panel proposed curbs on prescriptions and new clinical trials to assess risks. And on May 14, Medicare set out to limit conditions under which it would pay for the drugs, whose 2006 sales were $6.6 billion--47% of revenues. But not everyone has turned on Amgen. "In spite of its problems, now fully reflected in its stock, Amgen is a long-term value play," says Joseph Battipaglia, chief investment officer at Ryan Beck's Washington Crossing Advisors unit. Amgen makes five of the world's best-selling biotech drugs, he notes. At 12.5 times his 2007 earnings forecast of $4.28 a share, "the stock is cheap," says Battipaglia. He foresees $4.42 in 2008. He expects the stock to hit 64 in a year. Steven Silver of Standard & Poor's (MHP ) notes that Amgen's "long-term fundamentals and R&D efforts remain strong." He expects data from Phase 3 trials of a new drug for osteoporosis and bone cancer and another for lung and breast cancer to boost the stock. Amgen says it will work with the FDA to review the panel's proposals.
Note: Unless otherwise noted, neither the sources cited in Inside Wall Street nor their firms hold positions in the stocks under discussion. Similarly, they have no investment banking or other financial relationships with them.
By Gene G. Marcial
Before it's here, it's on the Bloomberg Terminal.
LEARN MORE