VeriChip Is I.D.'d As A Winner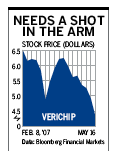 Verichip (CHIP ) is starting to attract Wall Street with its Food & Drug Administration-approved human-implantable radio frequency identification (RFID) chip for medical use. The size of a grain of rice, it can be injected into a person's arm. When scanned, it shows a 16-digit code linked to the person's proprietary database containing pertinent medical records. "It's an amazing life-saving technology and has many uses," says William Woodward of Anthem Venture Partners, which bought shares at VeriChip's initial public offering on Feb. 8 at 6.50 a share. The stock has since slid to 4.28. But Woodward is confident it will hit 12 in a year as more doctors and hospitals sign up to use the system. Some 400 hospitals and 1,200 physicians have already done so. Kevin Dede of investment firm Merriman Curhan Ford (MEM ), which has done banking for VeriChip, says the RFID chip is critical for people who end up in hospitals in an unconscious state. He expects sales to leap from $27.3 million in 2006 to $30.2 million in 2007 and $36 million in 2008. VeriChip has yet to make money.
Note: Unless otherwise noted, neither the sources cited in Inside Wall Street nor their firms hold positions in the stocks under discussion. Similarly, they have no investment banking or other financial relationships with them.
By Gene G. Marcial
Before it's here, it's on the Bloomberg Terminal.
LEARN MORE