The Sizzle At Morton's Restaurants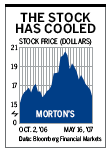 Boardroom business is firing up sales at Morton's Restaurant Group (MRT ), tops in upscale steakhouses. Some 20% of sales (up from 15% in 2006) is generated by private rooms equipped with boardroom trappings, including screens for videoconferencing with other Morton's establishments. "Big Pharma outfits are among the corporations that have used our boardrooms," says Chairman Thomas Baldwin. Six or seven new eateries, including one in Macau, will open this year. Morton's has 74 restaurants now. "Our goal is for sales to hit $1 billion," says Baldwin. Jeff Omohundro of Wachovia Securities (WB ), who rates Morton's "outperform," sees sales of $355 million in 2007 and $402 million in 2008. Such growth comes from "operational uniformity, strong brand recognition," and broad customer base, says Omohundro, who sees earnings of 89 cents a share in 2007 and $1.08 in 2008, up from 81 cents in 2006. Aimee Marcel Remey of Jefferies (JEF ), who rates Morton's, now at 15.96, a buy, says its high-income demographics give it pricing power that lets it pass on rising costs associated with beef and minimum-wage rates.
Note: Unless otherwise noted, neither the sources cited in Inside Wall Street nor their firms hold positions in the stocks under discussion. Similarly, they have no investment banking or other financial relationships with them.
By Gene G. Marcial
Before it's here, it's on the Bloomberg Terminal.
LEARN MORE