Inventories: Time To Restock The Warehouses
Businesses made a concerted effort during the past couple of quarters to keep their warehouses from getting any fuller. Now that inventories relative to sales look a lot leaner, the adjustment is winding down. If demand holds up, the economy should get a boost as companies allow inventory growth to keep pace with demand.
In March, business inventories fell 0.1%. The unexpected decline will translate into a bigger hit to first-quarter economic growth. The originally reported 0.3% drag on first-quarter real gross domestic product from the smaller rise in inventories will likely be close to 1% when the revised numbers come out on May 31, according to JPMorgan Chase (JPM ) economist Bruce Kasman. That comes after shaving 1.2% off of fourth-quarter real GDP.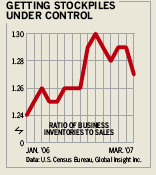 The recent clampdown, combined with resilient consumer and business demand, have left stockpiles at more comfortable levels. March's inventory-to-sales ratio fell back to a seven-month low of 2.7 months. In addition, the Institute for Supply Management's April factory activity report showed the largest share of respondents reporting customer inventories were too low since July, 2006. And fewer nonmanufacturers in April thought they were carrying too much inventory.
Starting in the second quarter, inventory growth should turn modestly supportive. Kasman expects an average positive contribution to real GDP of about 0.5% during the rest of the year. The boost to growth in the second quarter will likely come from autos as inventories climb on an upswing in production. A restocking of retail stores after a sharp March decline should be a plus.
But businesses will add to inventories only if they believe business and consumer demand will hold up. Right now the picture looks positive. Factory orders and output are growing at a good clip, and early data on May chain-store sales were positive. If that trend persists, Kasman expects manufacturing inventory growth will pick up in the second half of the year as the drag from housing diminishes.
By James Mehring
Before it's here, it's on the Bloomberg Terminal.
LEARN MORE