Inflation Wild Cards Will Keep The Fed On Hold
Demand, costs, and global forces raise new questions for prices
A lot of economists right now believe they know something about the inflation outlook that the Federal Reserve doesn't. They think weakness in the economy is about to ease price pressures significantly enough for the Fed to cut interest rates. The policymakers' take is quite different. Their statement after the Federal Open Market Committee's meeting on May 9 said: "The Committee's predominant policy concern remains the risk that inflation will fail to moderate over time." That hardly sounds as if the Fed is anywhere near cutting rates.
What the Fed appears to understand that some economists may not is the uncertainty in the inflation outlook created by the unique combination of demand, cost, and global forces at work in this business cycle. First, it's rare for one sector—housing, in this case—to so dominate an economic slowdown. Outside of housing, demand has not cooled enough to turn down the heat on prices. Steam is also rising from business costs, mainly for labor, energy, and other commodities, even as productivity growth is slowing down.
Then there's the international factor. Abroad, robust global growth is tightening labor markets and absorbing production capacity, forcing major central banks outside the U.S. to tighten policy as inflation pressures rise. At home, the dollar continues to fall, lifting prices of imported goods, especially consumer items.
It's not that inflation is about to take off. It's not. The good news is the yearly rate of core inflation has edged lower in recent months, dipping to 2.3% in April. The consumer price index increased 0.4% last month, mainly reflecting higher gasoline prices, and the core index, which excludes energy and food, rose 0.2%.
However, this unusual mix of forces is making it difficult to assure that inflation will stay down. The Fed's preferred measure of prices, the core price index for personal-consumption expenditures, continues to run above the Fed's stated comfort zone of 1% to 2%, and it has been at or above the top end of that zone for three years running. The recent slippage in the CPI inflation gauge will give policymakers some comfort, but they will remain wary due to the many factors in play.
THE NEWEST TWIST in the inflation outlook comes from globalization. Until now, the integration of the world economy has been a plus for the inflation outlook, as abundant global capacity has helped to spur competition and keep prices low. Those forces are still in effect, but to a lesser extent, especially compared with the late 1990s and earlier this decade, when U.S. and foreign economies were weakened by Asia's financial crisis and the tech bust.
Now booming global growth, partly resulting from unusually low interest rates and high financial liquidity in previous years, has absorbed much of that excess production capacity. Price pressures in many regions are getting more intense, forcing central banks in Britain, the euro zone, China, and Japan to react to the new inflation risks with rate hikes and hawkish rhetoric.
There's also the plunging dollar. On a trade-weighted basis and compared with a basket of major currencies, the dollar is now down some 30% from its 2002 peak, with a 4% decline in the past four months. As a result, rising import prices are adding to inflation pressures, not easing them as they were several years ago.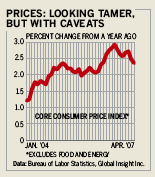 For example, prices of imported consumer goods excluding autos are up 1.9% from a year ago, the fastest pace in more than a decade. Prices of many imported materials, supplies, and capital goods are also on the rise. Expect more acceleration, given the likelihood of further dollar slippage. Foreign growth prospects and interest rates are becoming increasingly attractive relative to those in the U.S., and many central banks and private institutions are diversifying their investments into more nondollar assets.
IN THE U.S., DEMAND PRESSURE on prices has eased this year, but not as much as the slowdown in economic growth would suggest. Consider that over the past year overall demand in the economy has grown 2.3%. Take away residential construction, however, and the remaining 95% of all spending has grown 3.4%—no break from the average pace over the past two years.
Moreover, there is growing sentiment on Wall Street that the housing slump and its subprime mortgage offshoot are not going to topple the economy. First of all, the stock market has rallied strongly in recent weeks, up from its February lows, when subprime worries began to arise. Those wealth gains are adding handsomely to household net worth, more than offsetting the losses from declining real estate values.
Housing data are mixed, with builders continuing to suffer, but demand is holding up, as the recent uptrend in mortgage applications suggests. So far this year the average number of applications to buy a home is running higher than its level in the second half of last year.
IN ADDITION, FINDINGS from the Fed's latest survey of banks' senior loan officers have reduced concerns that the subprime mess will generate a broad credit crunch that could squeeze the life out of consumer spending. While banks have tightened their lending standards considerably on subprime and other nontraditional mortgage loans, the toughening of terms and conditions on prime loans has been only moderate. The Fed's survey also showed no great change in standards for other types of consumer loans, while terms on commercial and industrial borrowing by both large and small businesses remained easy, as banks continued to compete aggressively for new business.
Although the overall economy performed poorly in the first quarter, demand by consumers put in another solid performance, and spending in the second quarter, while slower, does not appear to be in any serious trouble. It's convenient to blame housing and subprime woes for the weak April performance of retail sales, which dipped 0.2% from March. However, higher gas prices appear to be the main culprit, along with an early Easter, which pulled sales into March. Note that March receipts jumped 1%, and in early May weekly jobless claims fell below 300,000, a level consistent with strong job growth.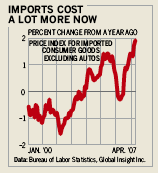 Tight labor markets are leading the push on prices from the cost side of business activity. The productivity slowdown, coming as job markets remain tight enough to keep wages accelerating, is keeping upward pressure on unit production costs. The fact that profit growth and margins remained surprisingly strong in the first quarter suggests businesses are recouping at least some small part of these rising costs through higher prices.
Ultimately, the bet for lower inflation and interest rates is a bet for a weak economy. But given the price pressures at work, at home, and outside the U.S., the economy will have to weaken much more broadly before the Fed would feel comfortable enough about the inflation outlook to cut rates.
By James C. Cooper
Before it's here, it's on the Bloomberg Terminal.
LEARN MORE