Pump Prices Are Up. Is Heating Oil Next?
Gasoline prices are surging right now, with little letup in sight. The causes are plain to see: Several factors have reduced supplies, while demand remains strong. If these conditions persist, consumers will not only shell out more at the pump but could also see higher heating bills come next winter.
The average retail price for a gallon of regular gasoline hit a record $3.05 for the week ended May 5. In its April monthly outlook, the Energy Information Administration raised its forecast for the average cost of gasoline this summer to $2.95 per gallon, vs. $2.84 last year.
Despite the record price, demand for gasoline still is growing. It's about 2% stronger than in the same period last year. Solid gains in income and decent job growth are giving consumers the extra cash they need to keep filling up.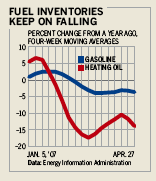 At the same time, however, refinery problems have curbed supplies and depleted inventory levels. Gasoline stockpiles declined for 12 straight weeks through the end of April, making for the longest continuous draw-down since 1993.
Beyond routine spring maintenance, problems such as fires and mechanical malfunctions are limiting production in the U.S. Capacity utilization, normally above 90% at this time, ended April at 88.3%, the lowest rate for the final week of April since 1992. Gasoline imports softened in February and March as refinery issues in Europe, Venezuela, and Nigeria led those areas to buy, rather than export, gasoline.
Refiners could end up playing catch-up to gasoline demand all summer long, says Jason Schenker, an economist at Wachovia Corp (WB ). That could be bad news for heating oil users. Weekly stocks of heating oil are off 20% from the previous year, and it is currently twice as profitable for refiners to produce gasoline. "Once you get into this cycle it can be hard to get out of it," cautions EIA senior oil market analyst Doug McIntyre. That means supplies could remain low and prices could be on the rise entering the winter heating season.
By James Mehring
Before it's here, it's on the Bloomberg Terminal.
LEARN MORE