CombinatoRx Has A Rich Pipeline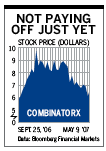 Apart from its name, CombinatoRx (CRXX ), two other facts are unusual about this little-known biotech. Using its own technology, it develops medicines from synergistic combinations of approved (unpatented) drugs. And even though it's tiny, the institutional big guns own stock. T. Rowe Price (TROW ) has 2 million shares, for a 7% stake; UBS Global Asset Management (UBS ) has 2.5%; and Barclays Global Investors (BCS ) has 2%. The company has pushed into Phase 2 clinical trials a portfolio of drug candidates aimed at cancer and multiple immuno-inflammatory diseases. "No other young biotech has six drugs in early Phase 2 trials," says Dr. Alan Tuchman, a partner at Xmark Funds, which owns shares. Its lead drug, CRx-102, will start its second Phase 2 trials this year in rheumatoid arthritis and osteoarthritis. A "modified-release commercial formulation" of CRx-102 is expected by yearend, he says. CombinatoRx has signed a pact with Cystic Fibrosis Foundation Therapeutics to develop a drug for that disease. The foundation is funding up to $13.8 million of research plus 75% of development costs. Eric Schmidt of investment firm Cowen (COWN ) rates the stock, now at 6.63, "outperform," and says CombinatoRx' approach could cut costs and lead times while improving success rates.
Note: Unless otherwise noted, neither the sources cited in Inside Wall Street nor their firms hold positions in the stocks under discussion. Similarly, they have no investment banking or other financial relationships with them.
By Gene G. Marcial
Before it's here, it's on the Bloomberg Terminal.
LEARN MORE