Since last summer, consumer outlays have been about the only bright spot in the economy. Outlays, adjusted for inflation, have motored along at a brisk annualized growth rate of more than 4% in the fourth quarter of last year and more than 3% in the first quarter of this year. But it looks like households are going to hit a couple of speed bumps this quarter: Surging prices for food and fuels promise to put the squeeze on purchasing power.
Don't worry. The road in the second half of the year is beginning to look a little smoother. For now, higher prices are eating into the buying power of take-home pay, but the job markets are still generating plenty of income, and that trend should continue. Why? For one reason, recent reports on home sales, housing starts, and mortgage applications all suggest that the drag on the economy from the housing slump, while far from over, is set to diminish, perhaps considerably, this quarter.
For another, March strength in manufacturing output, along with strong auto production schedules for spring, suggest business inventories are now coming into better alignment with demand. Plus, stronger factory output of business equipment and firmer capital goods orders are signs that some of the recent downbeat numbers on capital spending are set for a reversal.
Housing, inventories, and equipment outlays were the key drags on the economy during the winter, and any easing of these burdens will be a plus for overall demand, job growth, and household income.
IN THE NEXT FEW MONTHS, though, the jolt from higher food and energy prices will be substantial. The latest trends in food and energy quotes suggest second-quarter consumer prices are on a path to rise about 5% from the first quarter, measured at an annual rate. That would be enough to nullify most, if not all, the purchasing power of the quarter's expected rise in household income.
In the three months through March, retail food prices rose at a 7.4% annual rate, the fastest such pace in 17 years. Several factors converged in recent months to push up those prices, including a January freeze that hit much of the U.S. citrus crop, other weather anomalies abroad, and the ongoing impact of having more corn diverted toward ethanol production. Upward pressure on food prices is still evident in the commodities market: Through April, the Bridge/CRB Spot Index for foodstuffs is up about 9% so far this year, after having held fairly steady from August through December.
At the same time, prices for energy goods are up 30.9%, and prices at the pump kept climbing well into April. By Apr. 23, regular gas averaged $2.87 per gallon nationally, with prices in many areas over $3. Since late January the average pump price is up 33%.
To put that rise in perspective: If all of that pricier gasoline were purchased at the expense of other goods and services in the second quarter, then the quarter's growth in consumer spending, adjusted for inflation, would be more than a percentage point less than it would be if gas prices had held steady.
Those surging gasoline prices are undoubtedly a factor behind the latest drop in consumer confidence. The Conference Board's index slipped for the second month in a row in April, to 104. But that level is still only a tad below the average for all of last year.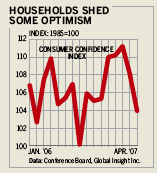 One hope for the summer: Gas prices may be topping out. Daily retail prices tracked by the American Automobile Assn. began leveling off in mid-April. In fact, pump prices appear to have gotten ahead of themselves, historically speaking. The relationship, over time, between the prices of crude oil and gasoline suggests that even with crude at $65 per barrel, gas should be in the neighborhood of $2.50 per gallon. Current prices would be consistent with crude at more than $75. Moreover, many consumers seem inured to $3 gas. Last year, as gas approached that level, demand continued to rise.
STEADY GROWTH IN JOBS and incomes has helped smooth the way for consumers over the past year, and this year should be no different, especially given nascent signs that housing, and some of the economy's other weak spots, are stabilizing. In housing, weather volatility has pushed sales of existing homes up and down in recent months. They dropped a steep 8.4% in March after rising 6.5% in January and February, but the trend, based on a six-month moving average, appears to have bottomed out late last year. And purchases of new homes ticked up by 2.6% in March.
The pattern in mortgage applications through mid-April also suggests housing demand is stabilizing. Weekly data from the Mortgage Bankers Assn. show applications to buy a home have held fairly steady in recent weeks, despite a continuing decline in the number of home buyers seeking adjustable-rate mortgages. That drop likely reflects falling demand for subprime and alternative-A loans, which tend to have adjustable rates. But the steady overall trend suggests demand for prime, fixed-rate loans is rising.
THE SUBPRIME DEBACLE clearly will delay the housing recovery. Banks are tightening their standards for lending to home buyers, and any rise in foreclosures will put more homes into inventory. But because lower prices, attractive interest rates, and continued income gains are boosting affordability in the prime market, the subprime mess does not appear to be generating any significant new round of weakness in housing demand.
More important, housing starts are no longer falling at the dramatic 30%-to-40%-per-quarter annual rates of last year. Starts of single-family homes declined at a 17.3% rate in the first quarter, and since the starts data foreshadow the residential building numbers, the drag on overall economic growth from housing is set to lessen, perhaps considerably, in the second quarter. If so, that would be a good omen for overall growth in the second half.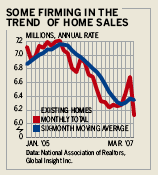 Also encouraging for the second half, the buildup of business inventories that had depressed ordering and production is reversing. Orders received by manufacturers of durable goods rose 3.4% in March, the second advance in a row, and March factory output grew by 0.7%, the strongest gain since December. The inventory slowdown subtracted greatly from economic growth in the fourth quarter of last year but was a much smaller depressant in the first quarter.
Orders and output for business equipment also picked up in March, after softness in recent months. Orders for capital goods, excluding defense items and commercial aircraft, rebounded by a strong 4.7% in March, the first gain since December. Although equipment orders remain weak, the advance in March suggests that businesses are still interested in expanding their domestic operations, a crucial element in future hiring.
So, despite the headwinds buffeting consumers this quarter, their spending remains well supported. And in the second half, as the obstacles to overall growth fade, those underpinnings will only strengthen.
By James C. Cooper
Before it's here, it's on the Bloomberg Terminal.
LEARN MORE