The Greening Of Metabolix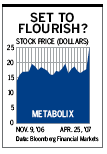 Metabolix (MBLX ), a little-known company that uses bioengineered microorganisms to ferment sugar in the making of biodegradable plastic and chemicals, streaked from 17 on Apr. 20, to 24.92 on Apr. 25. Pamela Bassett of Cantor Fitzgerald wasn't surprised. She recommended the stock on Dec. 21, 2006, at 18, and sees it hitting 40 in 12 months. On Apr. 23, Archer Daniels Midland (ADM ), which owns about 6%, announced a joint venture with Metabolix to produce high-performance, all-natural plastics. "It is the only bioplastic that can be biodegraded at sea, soil, or sewer without industrial composting or incineration," says Bassett. The plastic can be used for grocery bags and other types of containers, with high strength and durability, she adds. Bassett expects "great demand" for natural plastics. The joint venture will mean expanding the capacity of a plant now under construction on ADM's campus in Clinton, Iowa, to four times its planned 110 million pounds per year. Laurence Alexander of securities firm Jefferies Group (JEF ), with a buy rating, says Metabolix, which will also use other plants to produce plastic and bioenergy feedstocks, is a pure play in "green" plastics. He figures its partnership with Archer Daniels "significantly reduces" the risks.
Note: Unless otherwise noted, neither the sources cited in Inside Wall Street nor their firms hold positions in the stocks under discussion. Similarly, they have no investment banking or other financial relationships with them.
Corrections and Clarifications The May 7 Inside Wall Street column did not mean to imply that the joint venture between Metabolix (MBLX ) and Archer Daniels Midland (ADM ) will definitely lead to an increase of four times the planned capacity of a plastics plant in Clinton, Iowa, but rather that it has the potential to do so.
By Gene G. Marcial
Before it's here, it's on the Bloomberg Terminal.
LEARN MORE