Housing Isn't Hurting The Jobless Rate
Since a major pullback in new construction by homebuilders has been accompanied by seemingly small adjustments in employment so far, economists fret that residential construction payrolls are set for some big declines. A deeper look at job data, however, offers reasons to doubt such a major plunge is imminent.
The number of homes under construction in March was off 15.8% from the previous year. At the same time, residential building and contractor employment was off by just 3.6%. Some economists are expecting seasonally adjusted construction jobs data will finally take a dive this spring. If builders refrain from hiring in coming months because of slower activity, seasonally adjusted figures would show big declines in construction payrolls as hiring falls short of seasonal trends.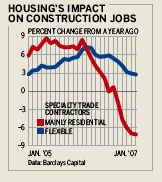 But to Julia Coronado, an economist at Barclays Capital (BCS ), an important adjustment is already well under way. Looking at all specialty trade contractors—who account for nearly 64% of total construction jobs—she found employment in housing-specific areas, such as siding, roofing, and framing, showed a yearly drop of 7.2% in January, the latest figures at this level of detail.
So why hasn't overall residential construction employment fallen as sharply? Coronado believes "contractors who can work across sectors are, not surprisingly, less tied to changes in residential activity." Among "flexible contractors" who may find it easier to get work in the nonresidential sector, such as electricians and plumbers, job growth is up 2.7%. As long as nonresidential construction activity remains brisk, demand for such contractors should persist.
In March the total number of contractors was virtually unchanged from January, with the number of residential contractors slipping by less than 10,000 workers. That's an auspicious start to the key spring and summer periods. If construction doesn't suffer dramatic drops in payrolls, the door stays open to job growth strong enough to lower the unemployment rate even more.
By James Mehring
Before it's here, it's on the Bloomberg Terminal.
LEARN MORE