Housing Provides Some Inflation Relief
Inflation pressures remained stubbornly high in March. But a let-up could be coming soon. Fallout from the housing recession looks set to put a lid on what have been rapidly rising rental and housing costs.
The consumer price index, less food and energy, was up 2.5% from a year ago in March. A lot of the upward pressure in core inflation has come from rents, up 4.6% on a yearly basis. Rent data are also used by the Bureau of Labor Statistics as an input to calculate homeowners' cost of shelter, referred to as "owner's equivalent rent." This price index rose 4.1% from a year ago.
But shelter costs should settle down soon. Looking at vacancy rates and shelter costs in 24 cities used by the BLS to calculate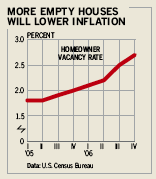 inflation, Goldman Sachs (GS ) economist Seamus Smyth found that shelter inflation eased when vacancy rates rose above the long-term average. "These empty housing units are essentially excess supply on the market" Smyth writes in a research note to clients.
Vacancy rates are currently quite high. In the last quarter of 2006, the homeowner vacancy rate hit a record 2.7%, while the rate among rentals was 9.8%, vs. a 7.1% historical average.
Further downward pressure on rent costs is likely. According to the National Association of Realtors, new multifamily homes are still being added in some saturated markets, such as Philadelphia and Atlanta. What's more, many condominiums are being converted into rental units.
As increased supply holds down rents, it will also lead to a slowdown in homeowners' shelter costs. That would have a real impact as owners' equivalent rent accounts for nearly 31% of core CPI and rents almost 8%.
Lower shelter inflation could also play a role in monetary policy. The Federal Reserve's preferred inflation measure, the core personal consumption expenditures price index, also uses owners' equivalent rent, although it is given less weight. If the economy were to weaken further, lower core inflation would remove a big hurdle to cutting interest rates.
By James Mehring
Before it's here, it's on the Bloomberg Terminal.
LEARN MORE