Home Solutions of America (HSOA ) (HSOA), a provider of recovery and rebuilding services when houses or offices have been damaged by flood, fire, or other calamities, acts like a first responder. States and insurers hire Home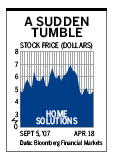 Solutions for such work. On Apr. 9 it was selected for a $13.7 million New Orleans infrastructure project, including rebuilding school playgrounds, sidewalks in the French Quarter, and the Orleans Parish sheriff's office. "HSOA has a large number of backlog orders, and it expects 25% of 2007 revenues to come from New Orleans," says Bert Francis of Missouri Valley Partners, which owns 910,000 shares. The stock dropped from 7 on Feb. 5 to 4.83 on Apr. 18 because of delays in contract payments and heavy short-selling. The bears fear that stiff competition and funding problems will make HSOA run short of money. But Francis isn't worried: "HSOA missed its estimates in 2006, but we expect a recovery in 2007." Francis sees HSOA rising to 8.25 in a year. David Yuschak of Sanders Morris Harris (it did banking for HSOA) rates it a buy and forecasts profits of 61 cents a share in 2007 on sales of $218 million and 79 cents in 2008 on $273 million, up from 39 cents in 2006 on $127 million. He expects the rebuilding of the Gulf Coast will finally get funding from the government and insurers.
Note: Unless otherwise noted, neither the sources cited in Inside Wall Street nor their firms hold positions in the stocks under discussion. Similarly, they have no investment banking or other financial relationships with them.
By Gene G. Marcial
Before it's here, it's on the Bloomberg Terminal.
LEARN MORE