Apple's Sweet Profits and Sour Legal Woes
Its stellar earnings release drew some attention from its options scandal. But questions about Steve Jobs' role aren't going away
by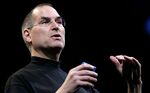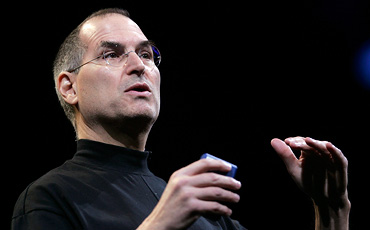 There's nothing like an 88% surge in quarterly profit to quell concerns over product delays and stock option grants.
Just ask the folks at Apple (AAPL) who on April 25 reported per-share earnings of 87 cents, blowing past analysts' expectations by more than 20 cents. Net income leapt to $770 million as sales rose 21%, to $5.26 billion. The gains were fueled by sales of 10.5 million iPod digital music players and 1.5 million Macintosh computers.
iPhone Feint
It was almost enough to make one look past remarks, issued a day earlier by a former chief financial officer, that placed blame for the options scandal on the shoulders of Apple Chief Executive Steve Jobs, or to forget that Apple recently delayed the release of its operating system to divert engineers to its music-playing cell phone—this after missing the planned introduction of Apple TV by a few weeks.
Almost—but not completely. Indeed, Apple preceded its earnings release with a statement from directors in defense of Jobs and his role in the handling of option grants, while questions about the coming iPhone and whether it will live up to the hype were sprinkled throughout the conference call discussing results—and remain on the minds of many analysts and investors.
Apple did shed some light on its plans for iPhone, including how it will account for the device's revenue. Apple will record sales of the phones over a 24-month subscription period, rather than at the time of purchase. It will do the same thing with AppleTV, the newly released set-top box that plays video and music stored on Macs or on PCs based on Microsoft's (MSFT) Windows. Apple CFO Peter Oppenheimer said this is because the company expects to offer ongoing software updates to add new features to the product.
Asked during a conference call if this implies a shift toward offering a video or music subscription service through the AppleTV device, Oppenheimer declined to be specific. "We have a number of ideas for features on AppleTV, and we'll provide them as they become available," he said.
Pointing Fingers
And what of Apple's core computer business? Shipments of the Mac rose an impressive 36%, helping Apple gain 5% of the U.S. personal computer market, up from 4% a year earlier. But can the sales be sustained in light of a reallocation of software engineers away from the Leopard operating system, now due in October instead of the spring, as previously expected? Andrew Hargreaves of Pacific Crest Securities in Portland isn't so sure.
"Mac sales have never been so closely tied to software upgrades as have Windows PCs," Hargreaves says. "New Mac sales are usually tied to new hardware being released." However, the imminent release of Adobe's (ADBE) Creative Suite 3 will likely spur many Mac-using creative types to finally take the plunge and upgrade their machines.
Then there are the lingering questions over the role of Steve Jobs in the handling of options grants. Apple in December exonerated Jobs. But former CFO Fred Anderson is settling legal charges from the Securities & Exchange Commission and coughing up some $3.5 million to walk away from the matter without admitting any guilt. A day before the earnings release, Anderson did his level best to point an accusing finger at Jobs (see BusinessWeek.com, 4/25/07, "Parting Shots At Apple's Jobs").
Anderson's comments were the first in public by anyone with direct knowledge of the granting of options at Apple that contradict the official version Apple has so far given both the public. "This was something that was supposed to have been settled and was over," says Senior Analyst Shaw Wu of American Technology Research in San Francisco. "I think even the SEC was surprised by this outburst."
Rosy Horizons?
Apple's board fired back with a broadside of its own, issued minutes before the earnings press release. In it, Apple's outside directors, including Google (GOOG) CEO Eric Schmidt and former Vice-President Al Gore, defended Jobs, saying he had cooperated with both Apple's own internal investigation and that of the SEC. "The SEC investigated the matter thoroughly and its complaint speaks for itself, in terms of what it says, what it does not say, who it charges, and who it does not charge. We have complete confidence in the conclusions of Apple's independent investigation, and in Steve's integrity and his ability to lead Apple."
With results like those posted in the most recent quarter, that confidence is well-founded. Apple's new emphasis on consumer-electronic products has analysts keenly focused on coming quarters, says Shannon Cross, analyst with Soleil-Cross Research in New York. "Everyone's looking past this quarter and toward the fiscal first quarter, which is the calendar fourth quarter," she says. "It's all about the guidance going forward." As for the current quarter, which ends in June, Apple said it expects profit of 66 cents a share on revenues of $5.1 billion.
And yet, the questions won't completely go away. They will next be trained on and come from former general counsel and a longtime key aide to Jobs, Nancy Heinen. Sued by the SEC for her alleged role in the backdating affair, Heinen has been promised a vigorous defense by her lawyers. Jobs could be deposed, and may be called as a witness at trial, assuming there's no settlement, legal experts say.
In defending herself against charges of alleged wrongdoing, Heinen and her legal team will have no choice but to either use information as yet unknown to weaken the case against her, or to shift the blame for any alleged wrongdoing to someone else. Here the obvious target invariably will be Jobs, no matter how much Apple's board insists otherwise. Reasonable minds can certainly remember and interpret past events differently. Doubt, small though it may be, will be the inevitable result.
Before it's here, it's on the Bloomberg Terminal.
LEARN MORE