Entrepreneurs Race for the Prize
As Americans embrace running, marathons are becoming more complexand more profitable. And that's spawning a new breed of startup
Kerry Miller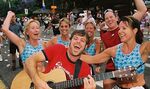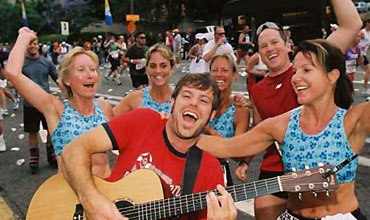 Back in the 1970s—the early days of marathons in the U.S.—directing a race often didn't mean much beyond setting your stopwatch. With a few notable exceptions (like Los Angeles and Chicago) most were managed by local not-for-profit running clubs or athletic associations.
In recent years, however, as long-distance running has grown in popularity, racing events have grown more complex—and more profitable. To say that times have changed would be an understatement.
Fueled by an infusion of corporate and municipal dollars, a typical marathon today can encompass an entire weekend of events, including a health and fitness expo, a carbo-loading dinner, three or more races (a marathon, half-marathon, a 5K, a kid's run, a walk), and a finish-line party.
The Oprah Touch
That has created a growing demand for professionals capable of overseeing these monster events, and has transformed race management—a career path that hardly existed 20 years ago—into a lucrative niche for small businesses. Once a cottage industry of former runners working as volunteers or consultants for hire, today's race director is now likely to be backed by a full-service sports-marketing firm capable of building profitable events from the ground up.
Ryan Lamppa of the national non-profit group Running USA credits Oprah Winfrey's much-publicized finish at the 1994 Marine Corps Marathon with jump-starting the country's second running boom, propelling marathons solidly into the mainstream. (They got their first start in 1972, when U.S. marathoner Frank Shorter won the gold at the Munich Olympics.)
Another major factor was the runaway success of fundraisers like the American Cancer Society's Relay for Life and the Komen Foundation's Race for the Cure, which helped transform long-distance races from relatively solitary, Spartan affairs into celebratory social events in which anyone could participate (see BusinessWeek.com, 9/19/05, "Sweating for Dollars").
Running After Profits
Compared to golf and tennis, running has always been a tough sell to big-name sponsors, even though, as a demographic, runners share many of the same characteristics as golf or tennis players. Overall, they're affluent, highly-educated, decision-makers. The reason? Because the sport doesn't have any marketable (read: American) stars, it's difficult to get decent TV coverage.
But even without a "Tiger Woods of running," the charity race bonanza of the late '90s showed that the marathon is actually a marketer's dream: capable of generating awareness for sponsoring brands and cash for charitable causes, host cities, and the race-management pros themselves while promoting a healthful, family-friendly sport. Everybody wins.
The turning point came when entrepreneurs realized that same win-win formula could be tweaked into a profitable business model. An entire marathon could be designed to showcase a city's redeveloped tourism district or a company's new product launch—or both—without harming the event's grassroots, feel-good spirit.
The key to the events' newfound profitability? Pledge programs, which race organizers use to outsource the fundraising component of a race to the runners themselves, allowing charities to make money without cutting into the revenue from sponsorships or registration fees. And charities aren't making off with just small change: The Leukemia & Lymphoma Society's Team in Training program has raised $750 million since its inception in 1988.
Rock 'n' Roll Marathon
Meanwhile, the charitable component makes a marathon more attractive to other corporate sponsors, and city officials and the media are happy to lend their support in the name of a good cause and civic pride. It even cuts down on labor costs, since organizers can rely heavily on volunteers for race-day operations, while the pledge program doubles as a built-in viral marketing campaign.
For sponsors eager to jump on the wellness bandwagon—and show they're taking a stand against obesity—a marathon actually provides two good causes for the price of one (see BusinessWeek.com, 2/26/07, "Get Healthy—Or Else").
Perhaps the first to truly harness the marketing potential of marathons was Tim Murphy, the founder of marketing/management company Elite Racing. His "crazy idea" was to make marathons more fun by tying them to something with broad-based appeal: rock music. He put bands at every mile marker, with a huge public concert at the finish line, and called it the Rock 'n' Roll Marathon. "Basically, a 26-mile party," he says.
Though the first marathon in 1998 wasn't profitable (it actually lost him about $1.1 million), Murphy says the event was an unqualified success. The race sold out its 20,000 spots almost six months ahead of time—earning it the record for the world's largest inaugural running event—and an economic impact study found that the event pumped $36 million into San Diego's economy in direct spending alone. A brand was born, and with it an entirely new concept: the "destination marathon" (see BusinessWeek.com, 4/18/05, "Marathons Around the World").
Growing by Leaps and Bounds
By the second Rock 'n' Roll Marathon, Murphy says, he had various cities across the country clamoring for a similar event of their own. Tourism boards were more than willing to cover the standard fees for things like extra police services, which would otherwise cost a promoter $50,000 to $200,000, and to chip in serious cash (between $100,000 and $750,000) to help with advertising, too.
Today, Elite Racing's staff of about 70 full-time employees puts on six big racing events each year, and Murphy says he's negotiating deals with three other cities to create new distance race events for each. And Elite Racing isn't the only company milking the win-win formula.
One of the most prominent race directors in the country, Dave McGillivray, contracts with the non-profit Boston Athletic Assn. to direct the Boston Marathon (the nation's oldest, and the sixth-largest by size). He's also the race director of the Denver Marathon (a for-profit venture) and helps produce numerous other races through his company, DMSE Sports. Event Marketing & Management International in Orlando produces more than 40 races each year for clients such as Cingular Wireless and Outback Steakhouse (OSI). The Walt Disney (DIS) Marathon, directed by EMMI's Jon Hughes, is the eighth largest in the country. (The Rock 'n' Roll Marathon is No. 7.)
Aided by the Internet
Other companies are tinkering with their business models to boost their profits. Kathy Kinane says her Carlsbad, Calif., company, Kinane Events, "…is growing like crazy," as it has shifted its focus away from charity events such as Race for the Cure, which are typically less profitable. Instead, Kinane has assumed larger management and operations roles in commercial races. The company's biggest event, the Pacific Shoreline Marathon in Huntington Beach, was purchased by an investment group two years ago.
Since then, she says, the event has grown 40%. Kinane says she expects future growth to come from exploiting sponsorship opportunities more fully, rather than managing more events. That's getting easier, she says, thanks to the Internet. For the upcoming Saddleback Memorial Half-Marathon in Laguna Hills, for example, online registrants will get an e-coupon for a nearby Nike (NKE) Women's Store.
Though most remain optimistic about the industry's future, race directors caution that race management is no way to get rich quick. Marathons are labor-intensive events with razor-thin margins, and typically require a significant investment before they start to turn a profit. (Without a title sponsor or funds from the cash-strapped city of San Diego, Murphy admits this year's Rock 'n' Roll Marathon wasn't profitable.) Which isn't to say that his investors— including Back to the Future producer Frank Marshall—aren't happy. With Elite Racing pulling in more than $35 million in revenue, Murphy says of his lead backer, "He has done quite well on his investment."
For a related slide show, click here.
Related features on BusinessWeek.com:
BusinessWeek's Mark Hyman ran his first marathon at age 46 -- he shared his training secrets in The 26-Mile Itch. BusinessWeek also wrote about marathons around the world, running for a good cause], and took a look at the fittest CEOS).
Before it's here, it's on the Bloomberg Terminal.
LEARN MORE