U.S.: The Job Markets Face A Stress Test
If they pass, consumer spendingand the economywill stay healthy
After nearly 5 1/2 years of steady growth, the U.S. economy is entering a delicate phase. So far, overall growth has slowed substantially without much impact on job growth. Indeed, March payrolls posted a strong gain of 180,000 jobs, and the unemployment rate dipped to 4.4%, matching the low point so far in this business cycle, touched in October of last year. The next few months, however, could be tricky. What's at stake? Consumer spending, which has been the economy's primary support over the past year.
Consumers have been of paramount importance to the economy's recent growth, and jobs and incomes have played the starring role in boosting household spending. Last year consumer outlays accounted for more than two-thirds of the growth in real gross domestic product. In the second half they contributed essentially all of it—gains and losses in other sectors balanced out to about zero. Much the same influence will be evident when the government reports its first estimate of GDP growth for the first quarter of 2007 on Apr. 27.
Job growth has already slowed, but not enough to ring alarm bells. In the first three months of 2007 monthly payroll gains averaged 152,000, down from 189,000 per month during 2006. The pace so far this year is still above the 100,000 to 125,000 per month most economists believe is sufficient to keep the unemployment rate edging lower. And household income from wages and salaries appears to have grown by close to 9% from the previous quarter, measured at an annual rate, which would imply a rise of about 4.5% from a year ago. That's much faster than inflation.
Over the next several months the labor markets will be increasingly vulnerable. Despite the resilience of consumers, overall demand in the economy has slowed, and job growth can often lag behind such shifts. Given that many businesses still find it difficult to recruit highly skilled workers, they appear hesitant to cut payrolls until the depth and duration of the demand lull becomes clearer. The longer the slowdown persists, the greater the chance that job growth will slow further.
THAT'S PARTICULARLY TRUE now that productivity growth is slowing sharply and tight job markets are jacking up labor costs. Based on the expectation for first-quarter economic growth of about 2% and the 1.5% rise in hours worked, productivity last quarter struggled to grow 1% or less. That tepid showing was for a quarter when workers' pay and benefits appear to have risen some nine times faster. The combination is squeezing both profit margins and earnings growth, a situation that will make it increasingly difficult for companies to add workers if demand continues to ebb.
Managers already have become more reticent about hiring, according to the Conference Board's first-quarter chief executives' Confidence Measure. About 42% of the execs anticipate more hiring in their industry, down from 46% a year ago, while the proportion who expect fewer jobs rose to 32%, from 24%. The overall index of CEO confidence rose slightly, but the board's Lynn Franco says the uptick reflects "a decline in the number of pessimists, not an increase in the number of optimists."
THE MARCH JOBS DATA most likely exaggerated the labor market's strength last month. The weather, which was unusually harsh in February and more normal in March, clearly affected the numbers. The Labor Dept.'s tally of workers who said they were not at work because of bad weather posted an uncommonly steep rise compared with a typical February, followed by an exceptionally large decline in March.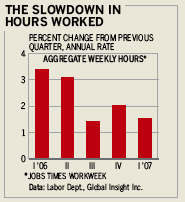 For example, the payroll data say construction industries added 56,000 workers in March after shedding 61,000 in February. The truth is somewhere in the middle of those two extremes: Over the six months prior to February, monthly gains in construction payrolls averaged 3,000 workers.
A top concern for the coming months is that the big job losses expected in homebuilding have not yet shown up in the Labor Dept.'s data. That could change dramatically during the spring and summer building season. Labor's payroll data are seasonally adjusted, which means expected warm-weather increases in hiring are adjusted downward to get a better picture of the underlying trend. If hiring in coming months fails to match the usual expectations, which seems probable, the seasonally adjusted data could register very large losses.
The surprisingly steep drop in new-home sales through February, including large downward revisions to the sales levels of recent months, implies a larger inventory of unsold new homes than earlier data had indicated. As a result, the ongoing declines in housing starts and overall residential construction will most likely turn out to be deeper and more protracted, with declines extending through spring and into summer.
It's not just inventories of new homes that are weighing on the labor markets. Falling demand for a broad range of items, from home-related consumer goods to construction equipment to building supplies, have caused backups in stockpiles at many businesses, which continue to depress output and hiring in manufacturing. Factory payrolls fell by 16,000 workers in March, about the same monthly pace of losses averaged since last summer.
THE GOOD NEWS from the job markets is that, at least so far, hiring weakness has not spread in any big way to areas outside of residential construction and manufacturing. In fact, construction employment apart from homebuilding is actually growing. Over the past year, jobs in residential building have fallen by 125,000, while other construction payrolls at business and heavy-engineering sites have increased by 146,000.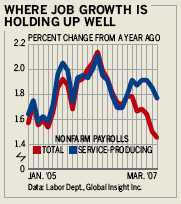 The area of greatest resilience in the labor market right now is the service sector, which accounts for 84% of all payrolls. Over the past year, job growth in services has slowed, but not as sharply as overall payrolls. What slowdown there is has been concentrated in business services, such as legal, computer, and management consulting, along with financial services. Ground transportation has also slowed, along with warehousing. Elsewhere, buoyant growth in information services, health care, leisure, hospitality, and retail trade has provided some offset.
Unless the weakness in housing and manufacturing spreads more pervasively through the service-sector job markets, consumer spending should remain buoyant, and the overall economy will be in a good position for a pickup in growth in the second half.
On that front, one key trend engenders optimism. At a similar point in the mid-1990s, when the Federal Reserve Board had stopped tightening monetary policy in February, 1995, after lifting its target rate from 3% to 6%, service-sector job growth had already fallen off sharply. The current pattern suggests that Fed rate hikes, this time from 1% to 5.25%, have not been so constrictive as to hammer overall employment. However, the next few months should tell the tale.
By James C. Cooper
Before it's here, it's on the Bloomberg Terminal.
LEARN MORE