Tougher Pollution Rules Are Buoying ADA-ES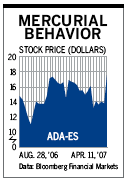 Control of carbon emissions from coal-fired power plants has long been a hot topic, but states are now slapping limits on mercury output, too. And investors are watching. Illinois O.K.'d a regulation in December that requires power plants to retrofit activated carbon injection on the state's 56 boilers during 2008-09. "We're getting a lot more orders these days," says Michael Durham, president of ADA-ES (ADES ), which provides technology and equipment that help coal plants enhance existing pollution-control systems and improve their efficiency. Today, 12 states have mercury-control rules, and an additional 13 are considering regulations stricter than the existing federal Clean Air Mercury Rule. John Quealy of investment firm Canaccord Adams, who rates ADA-ES a buy, says state legislation is the primary impetus for adopting mercury control systems. That produced solid fourth-quarter results for ADA-ES. The strong sales in its mercury-emission-control unit provided most of the oomph. He sees the stock, now at 17.67, hitting 20 in a year. Another bull, William Burns of investment firm Johnson Rice, expects the mercury-control market to double by 2010. He forecasts earnings of 11 cents a share in 2007 and 18 cents in 2008, up from 2006's 7 cents.
Note: Unless otherwise noted, neither the sources cited in Inside Wall Street nor their firms hold positions in the stocks under discussion. Similarly, they have no investment banking or other financial relationships with them.
By Gene G. Marcial
Before it's here, it's on the Bloomberg Terminal.
LEARN MORE