Strong Tax Revenues Slow The Red Ink
The federal deficit is defying expectations yet again. Tax revenues are growing at a stronger pace than many expected, and it now appears a slowdown in receipts will be gradual. That bodes well for the budget outlook.
Halfway through fiscal year 2007, the federal budget deficit stands at $258.4 billion, nearly $45 billion below the total through March of last year. Budget shortfalls are getting smaller because tax receipts remain quite strong. Through March, overall revenues are up 8% compared with the same six-month period in the last fiscal year.
The strong growth in tax receipts witnessed in the past few years is unusual. Tax revenues haven't grown more than 8% for three straight years since a stretch in the late 1970s to the early 1980s. In the long run, receipts grow at about the same pace as the overall economy. Right now, however, the data don't suggest any such convergence will occur soon, says Lehman Brothers (LEH ) senior economist Drew Matus.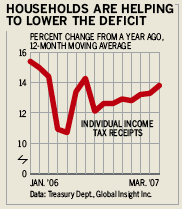 The surprising gusher of revenues suggests that "tax rates haven't fallen as much as people believe," says Matus. One culprit is the Alternative Minimum Tax (AMT). Even though income tax rates were lowered earlier in this decade, the AMT appears to have recaptured some of those potentially lost revenues despite yearly stopgap legislation to limit its bite. What's more, the AMT is capturing more taxpayers as incomes rise, which ends up raising the overall tax rate for American households.
A tighter labor market is also putting more money in Washington's coffers. More jobs and larger wage gains mean more tax revenue. As long as the labor markets hold up, growing household receipts should help to offset any declines in corporate tax revenues from rising costs and softer profits.
Matus expects a continuing strength in receipts to help keep budget deficits close to $200 billion through 2009. And with mounting pressure to reduce the country's military presence in Iraq, even smaller deficits may be possible.
By James Mehring
Before it's here, it's on the Bloomberg Terminal.
LEARN MORE