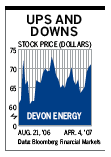 Expect more mergers and acquisitions in the oil patch. As oil companies pump up their cash hoards at a dizzying pace, they are looking for growth in the U.S. rather than overseas, says Michael Metz, chief investment strategist at Oppenheimer. Russia, Venezuela, and other Latin American countries are now less welcoming to U.S. oil interests, notes Metz, so Big Oil is looking for American outfits with outsize reserves. Oppenheimer oil guru Fadel Gheit says rumors have resurfaced that Exxon Mobil (XOM ) may go after Devon Energy (DVN ), a major oil-and-gas company and the largest U.S.-based independent natural gas producer, with an estimated proved reserves of 2.4 billion barrels of oil equivalents. "An Exxon-Devon deal makes sense," says Gheit, because of Devon's large properties. He notes that Devon leads in deepwater production in the Gulf of Mexico "where Exxon has little foothold." With oil at $62 to $65 a barrel, Gheit estimates Exxon's cash flow at $52 billion and says its free cash flow could be $22 billion. Even without a takeover, Devon shares, now at 71.45, will hit 90 to 100 by yearend 2008, he figures. When last featured in this column, on July 10, 2006, the stock was at 56. Tina Vital of Standard & Poor's (MHP ) says Devon has turned itself, through discoveries and acquisitions, "into a production-growth stock from a value-enhancing restructuring story." She rates it a buy. Both ExxonMobil and Devon said they don't comment on rumors.
Note: Unless otherwise noted, neither the sources cited in Inside Wall Street nor their firms hold positions in the stocks under discussion. Similarly, they have no investment banking or other financial relationships with them.
By Gene G. Marcial
Before it's here, it's on the Bloomberg Terminal.
LEARN MORE