U.S.: Earnings Season Is About To Get Chilly
A softer economy and sagging margins will sap profits this year
Corporate profits have been on a tear for more than three years. Defying expectations, earnings growth remained strong last year, completing a record 14 consecutive quarters of double-digit gains from the previous year. Get ready for a change. The profits slowdown already appears to have started, and margins are getting squeezed. For 2007, the combination of cooler demand and warmer labor costs will create a tough economic climate for earnings. Investors who don't adjust their expectations are bound to face some disappointments as the year progresses.
Some slowdown in earnings seemed inevitable. Last year's tightening in the labor market kept upward pressure on wage costs at a time when productivity growth was cooling off. That means many companies are less able to offset rising labor costs with gains in efficiency, a sure recipe for slimmer profit margins.
Now companies are facing a double blow. Not only will they be earning less on each item they sell, but the economy also is proving to be a bit softer than many economists had anticipated. That means top-line revenue growth will most likely fall short of expectations as well. In addition, last year's strong profit performance set the bar high for year-ago comparisons.
Just ahead of the first-quarter earnings season, which kicks off unofficially on Apr. 10 with Alcoa's (AA ) report, the estimate for quarterly growth stands at a somber 3.8% from a year ago, according to Thomson Financial (TOC ). That's sharply below the 8.7% expectation at the beginning of the quarter. The emerging question for the rest of the year: Can earnings growth stay above water?
IT'S GOING TO BE A STRUGGLE. Economists are lowering their forecasts for economic growth after some surprisingly weak reports of late and the tightening of credit conditions resulting from the subprime mortgage meltdown. The housing slump appears to be deeper and more protracted than previously expected, and capital spending by businesses will not provide the support it had been projected to offer. Consumer spending appears to have held up well last quarter, but costlier food and energy will take a toll this quarter.
Many forecasters have lowered their expectations for first-quarter growth in real gross domestic product to less than 2%, with little better than 2% projected for the second quarter. Numbers like that would only reinforce the latest round of corporate spending caution and imply a further slowing in the growth of jobs and incomes, adding to the weight on consumer demand.
Corporate profits in last year's fourth quarter were actually weaker than they looked. Compared with the previous year, earnings for the companies in the Standard & Poor's 500-stock index rose nearly 11%, and even higher excluding the energy sector, where profits were depressed by falling prices for oil and gasoline. However, on a sequential, or quarter-to-quarter, basis, earnings declined.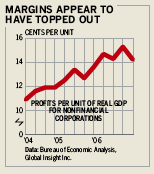 That drop also shows up in the government's more comprehensive roundup of fourth-quarter profits. Overall earnings, adjusted by the Bureau of Economic Analysis for seasonality and some conceptual differences between government definitions and company reporting, fell 1.2% from the third quarter, measured at an annual rate. Profits for nonfinancial corporations fell 24%, the largest drop in almost four years. Energy companies accounted for more than half of the loss, but wholesale trade, commercial transportation, and other industries also posted big declines.
In addition, profit margins, measured as earnings per unit of output of nonfinancial companies, fell to 14.2 cents, the lowest in a year, from 15.3 cents in the third quarter. And you can't blame that dip solely on the weakness in the energy sector. Unit labor costs, or workers' compensation adjusted for productivity gains, soared at a 6.9% annual rate, more than six times faster than the increase in prices.
THE PRESSURE ON MARGINS will only increase. Given the expected softness in first-quarter growth, productivity appears to have posted another tepid gain, while wages and salaries through February have spiked upward, boosted by big bonus payments and stock option exercises. Unit labor costs are sure to post another large increase in the first quarter that will once again swamp the rise in prices and squeeze margins further. Based on Treasury Dept. data through Mar. 30, corporate tax receipts in the first quarter are up only 17.7% from a year ago, the slowest pace in 3 1/2 years.
PROFITS THIS YEAR will have a couple of supports to help cushion the impact. One is overseas revenues and earnings. Global economists at UBS (UBS ) calculate that foreign sales of companies in the S&P 500 accounted for 29% of all sales in 2005, up from 25% in 2001. So companies active in foreign markets should fare better than those who aren't. The government's latest accounting shows profits from the rest of the world in the fourth quarter of last year were up 38.5% from a year ago, and they accounted for 16.5% of the earnings of U.S. corporations (chart).
With U.S. exports booming, more gains seem likely. Fourth-quarter shipments, adjusted for inflation, were up 9.4% from a year ago, the strongest showing in more than two years, and the momentum continued into the first quarter. For example, makers of business equipment, while suffering a period of weak capital spending in the U.S., are finding strong demand overseas.
Economies abroad are robust and seem likely to remain so, with growth fueled by solid domestic demand, which will limit the impact of the U.S. slowdown on foreign activity. Growth in Europe has generally beat expectations. Late-year gains in Japan eased fears of a slower recovery there. China is still on a tear, and most emerging-market economies are performing well.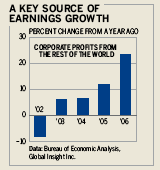 Corporations on the whole are also in a financially sound position with solid balance sheets, which many are using to their advantage. Companies may be hesitant to borrow money for new equipment and other expansion projects, but they have not been shy about using their financial clout to enhance future earnings per share through stock buybacks. They retired, on net, a record $602 billion in shares last year. Companies this year will still have financial power to support more buybacks, helping to offset some of the huge drag from softer operating earnings.
On Feb. 26, when former Federal Reserve Chairman Alan Greenspan rattled the markets with his recession comments, one of the trends he cited was profits. He noted that margins had begun to stabilize, which is usually a sign the economy is in the late stage of a business cycle.
However, equity investors needn't throw in the towel just yet. It often takes a long time after profits and margins peak before any stress on the corporate sector and the economy takes hold. Consider the late 1990s: Margins peaked in the second half of 1997, but it took three years and the tech bust for the economy to feel it.
By James C. Cooper
Before it's here, it's on the Bloomberg Terminal.
LEARN MORE