The Donald "trumped" by condo bubble
As I've traveled on business, it seemed that Donald Trump's mug was on billboards in every large city I visited. In most cases, the billboards were advertising some big real estate expo or
Dean Foust

As I've traveled on business, it seemed

that Donald Trump's mug was on billboards in every large city I visited. In most cases, the billboards were advertising some big real estate expo or "leadership" conference where Trump was the keynote. Why was Trump making the rubber chicken circuit? Ego, perhaps. And I'm sure he was collecting a handsome speaking fee, but by itself, I'm sure the fee was probably peanuts compared to his other sources of income(this press release from the Learning Annex claims he's receiving $1.5 million per, but like everything else about Trump, I suspect there's some hype here).
But I quickly detected a pattern: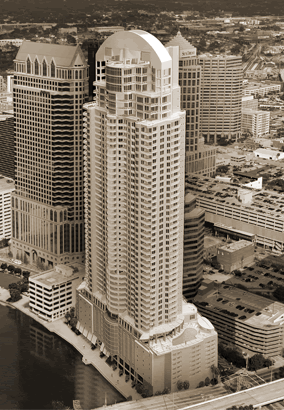 In a few of these cities (including my current hometown, Atlanta), Trump is/was building a new high-rise luxury condo and the Tour De Trump was likely just a big sales promotion. (Or truth be told, in some cities he's simply been licensing his name to another developer, for a risk-fee cut of the project revenues. But more about that in a minute...)
But it appears even Trump's name isn't enough to withstand the gale forces slamming the condo market these days. In Tampa, a 52-story luxury condo project--the Trump Tower Tampa(computer-generated image at right)--sits stalled, a crane sitting unused, rusting metal collecting around the site. This seems to be one of those instances where Trump was just licensing his name to someone else's project, but it'll be his reputation that is tarnished if this development isn't completed. The Trump Tower Tampa was supposed to open in 2008, but now the sales reps bravely say that residents will begin moving in the year after, in 2009. I'm willing to bet the Donald a buck that they don't. Here's the story in the Orlando Sentinel.