The Real Economic Threat: Weak Capital Spending
Corporate caution could jeopardize job growth and consumer outlays
What's the biggest threat to the economy? The housing slump, right? After all, therein lies the greatest potential to derail consumer spending. Well, think again. Amid all the headlines about builders' woes, sagging home prices, and shaky subprime mortgages, there's some trouble brewing in another sector, perhaps more crucial to the outlook: capital spending.
Business outlays for new equipment and facilities have slowed sharply over the past year. That's important because when businesses expand their operations they also add to their payrolls. Job growth over the past couple of years has been the primary support under consumer spending, so any sharp slowdown in capital spending would most likely have an even broader impact on consumers than the weakness in housing.
Inflation-adjusted expenditures for things like computers, heavy machinery, factories, and warehouses grew only 3.9% per quarter during the final three quarters of 2006, after increases averaging 8.2% in the previous three quarters. Spending in the final quarter of 2006 dropped for the first time in almost four years, and there's more weakness to come. In January and February, orders for capital equipment have fallen sharply, putting them far below their fourth-quarter level and suggesting the economy will struggle to reach a 2% growth rate in the first quarter.
The odd feature of this weaker spending pattern is that it has occurred during a period when the fundamental drivers of business investment have been generally strong. Based on robust earnings and record profit margins, the prospective returns on new plants and equipment have been high, even as investment costs have been low. The cost of borrowing in the credit markets remains relatively cheap, and banks, on balance, have not tightened their lending standards for their corporate customers. Companies also sport exceptionally high levels of corporate cash and solid balance sheets.
THIS DISCONNECT between the ability and desire of companies to spend appears to reflect a sharp turn toward caution in the boardroom. Companies have been rocked by one uncertainty after another since 2000, including recession, corporate scandals, terrorist attacks, war, and a tripling of oil prices. The latest round of worries began last year amid growing fear that the housing recession would spread to the rest of the economy. Those concerns have been reinforced by the subprime loan debacle and another bounce in the price of oil back to more than $60 per barrel.
Even before the big stock market swoon on Feb. 27, which was related to the subprime mess, the general outlook of chief executives surveyed by the Business Roundtable was relatively subdued compared with their attitudes in 2005 and early 2006. Chief financial officers queried by Duke University offered a similar take.
After Feb. 27, attitudes are bound to have soured. The UBS Index of Investor Optimism for March dropped to its lowest level in six months, reflecting diminished expectations for stock prices and a less upbeat inflation outlook. Those attitudes were driven by real estate woes and a nearly 20% resurgence in gasoline prices since late January. Those were undoubtedly factors in the March drop in consumer confidence as well.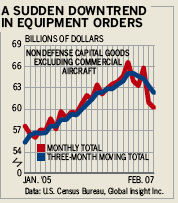 As for corporate confidence, one of the best indicators is businesses' willingness to plunk down money for new equipment, a trend that has gone south in recent months. Orders for capital goods, such as machinery and high-tech hardware (outside of defense items and commercial aircraft), fell 1.2% in February, the fourth decline in the past five months. The three-month moving average of orders, which gives a good reading of the trend, has dropped sharply after heading almost straight up for about two years. The longer companies keep their capital-spending plans on hold, the more vulnerable the economy will be to other downdrafts, such as any new surprises from the housing market.
THE CURRENT SLOWDOWN in capital spending is actually part of a longer-term hesitancy on the part of businesses to expand their plants and equipment. Throughout this five-year expansion, the growth in outlays has failed to match the pace of the 1990s expansion, even prior to the boom late in the decade.
For the past four years, the real, or inflation-adjusted, stock of equipment and software in place at nonfinancial corporations has generally not grown any faster than that sector's real gross domestic product, based on Federal Reserve data. That suggests the 4.4% growth rate in equipment outlays in 2006, the slowest in three years, has been insufficient to keep up with the rate at which old computers and machines are wearing out.
Companies aren't wary only about spending. They also seem unwilling to borrow for anything other than financing stock buybacks and taking their businesses private. Recent Fed data show that nonfinancial corporations last year, on net, retired a record $602.1 billion in equity. In the fourth quarter alone, they set aside $701.2 billion, measured at an annual rate, far more than the additional $604.6 billion they borrowed in the credit markets. Companies seem interested in cutting their overall cost of capital, but they don't seem very hot on taking advantage of cheaper capital to invest in expanding their operations.
THE ANSWER TO THIS PARADOX goes back to corporate prudence, and the heavy demands investors have placed on companies to perform. Capital-spending decisions depend most crucially on prospects for demand, which has slowed in recent quarters, with little to suggest a pickup. Recent news that sales of new single-family homes plunged to the lowest level in more than six years, along with new evidence of falling house prices, only reinforces the perception that demand is softening.
Businesses may be worried that the profit machine of the past few years is about to slow down, and they could be right. With labor markets tightening and productivity slowing, unit costs are picking up speed relative to prices. That means the profit margin on many goods and services is getting squeezed, a factor that could hammer earnings as revenues slow.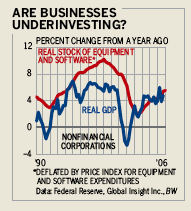 That might already be happening. The ratio of negative to positive earnings pre-announcements for the companies in the Standard & Poor's 500-stock index for the first quarter of 2007 is running at 3.3, according to Thomson Financial. That is, for every pre-announcement by a company saying it will beat its earnings expectation, more than three companies expect to miss their projections. That reading is higher than at this point in the fourth-quarter earnings season, and it is also well above the historical average of 2.0.
So don't get too fixated on every dire headline about the housing recession. The key to the staying power of this economic expansion will be the spending decisions of U.S. businesses, and in coming months they will need plenty of convincing that the economy is on solid ground before they commit to parting with their money.
By James C. Cooper
Before it's here, it's on the Bloomberg Terminal.
LEARN MORE