Borrowing Like There's No Tomorrow
Consumers are piling up credit-card debt at the fastest pace in years, and the housing downturn may be the reason. If households continue to rely on credit cards, it could leave them more financially vulnerable to any further economic slowdown.
In January, revolving credit, made up largely of credit-card debt, was up $52.7 billion, or 6.4% from a year ago. Consumers haven't racked up revolving debt at such a clip since late 2001. And the pace looks set to quicken in February. A large chunk of the $6.8 billion increase expected by economists likely will be in the form of new credit-card debt, as nonrevolving credit probably cooled off with slower auto sales.
The timing of the acceleration in revolving credit suggests consumers are turning to their credit cards as a partial replacement for reduced mortgage equity withdrawal, says Goldman Sachs (GS ) senior economist Ed McKelvey. According to his calculations, increases in revolving credit have offset about 20% of the decline in cash-out refinancing or increased home-equity lines of credit since late 2005.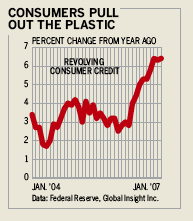 Consumers who no longer can, or wish to, tap their home's equity, but instead fund spending with credit cards, are making an expensive decision. The average interest rate on a credit card is more than 13%, far above the average rate for a home-equity line of credit. In addition, most interest expense on home-equity loans is tax-deductible. By relying more on credit cards, consumers run the risk of raising their overall debt burden, which, at 14.5% of aftertax income, is already the highest level on record.
With labor markets and income growth still appearing strong, it looks like consumers can shoulder the extra debt burden, for now. "If wage income grows enough to offset increased debt, then consumers will be fine," says McKelvey. But the strength of the job market and the economy hinges largely on whether housing woes spread. If conditions do deteriorate, many consumers could get squeezed hard by their decision to keep on borrowing.
consumer debt
By James Mehring in New York
Before it's here, it's on the Bloomberg Terminal.
LEARN MORE