Home Equity: The Party May Be Over For Consumers
Will the housing collapse deal a major blow to consumer spending? The moment of truth is fast approaching. Weak home sales, stagnating or falling house prices, and tighter lending standards are limiting the amount of cash households can obtain by tapping into their home equity. Some economists believe this cash strongly supported spending in recent years.
In the fourth quarter of 2006, the amount of this equity extraction fell to 2.1% of aftertax income, according to investment bank UBS (UBS ). What's more, a disproportionate share of subprime borrowers, especially those with adjustable-rate mortgages, turned to their homes for extra cash.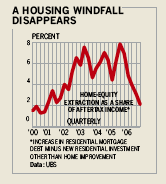 There have been few signs of weaker consumer spending, but ubs economist James O'Sullivan believes that could soon change. So far, most of the dropoff in equity extraction has been from fewer home purchases leading to less money left over after sales. But now funds from home-equity loans and cash-out mortgage refinancing are falling. Money from such loans is "more likely to be turned into spending promptly" than funds from a home sale, he says. After all, many sellers turn around and use the cash to buy another home.
The effects on spending from falling home-equity extraction also occur with a lag, and any early impact may have been offset by lower energy prices late last year. O'Sullivan expects the drag from reduced home-equity extraction to emerge in the second quarter, leading to a roughly 0.5% drag on consumer spending this year. And Jan Hatzius at Goldman Sachs (GS ) believes the drag will only get larger in 2008.
However, other economists remain optimistic. Solid job growth outside of construction and manufacturing, healthy income growth, and the lagged effect of past wealth gains are expected to make up for the decline in equity extraction. Also, higher-income households make up a majority of spending and are less likely to be affected by the housing downturn. We should soon know which side has it right (see BusinessWeek.com, 2/19/07, "Out of the Basement for Housing").
By James Mehring in New York
Before it's here, it's on the Bloomberg Terminal.
LEARN MORE