EMI, Apple, and DRM: Death Announcement Premature?

"Will DRM Die Today?" asked a headline on a Techcruch item posted by Michael Arrington a few hours before EMI Group and Apple announced that the iTunes Store will offer EMI's entire digital music catalog without digital rights management restrictions.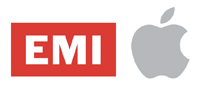 The death of DRM would be a welcome development, but it's declaration may be premature. Not surprisingly, the joint announcement by EMI's Eric Nicoli and Apple's Steve Job's raises lots of questions:
--Will consumers pay a premium for DRM-free music? The unprotected songs will cost $1.29 vs. 99 cents for other iTunes tracks. The tracks will be encoded at better quality--256-bit AAC--but it's nmot clear that will matter to the sort of buys who listen to their music on $5 earbuds.
--Will any of the three other major music studios go along? The key player are the industry leaders, Vivendi's Universal Music Group and Sony BMG, a joint venture of Sony and Bertelsman. The No. 4 studio, Warner Music, has been an outspoken opponent of ending DRM.
--Perhaps most important for the long term, will Hollywood relay its draconian stand on DRM for movies and TV shows. The situation there is far more dire (for consumers) than in music, as I point out in my current Tech & You column. Free downloads are much less of a threat for video than for music, and without that pressure, it's not clear that the studios are ready to yield. Of course, as the largest shareholder in Disney, Jobs might just be able to bring some pressure of his own.
Before it's here, it's on the Bloomberg Terminal.
LEARN MORE