The clampdown on inventories isn't just a U.S. phenomenon. Manufacturers across much of the industrialized world are scaling back on production and paring down excess inventories, and that's putting a kink in global growth.
Manufacturers were caught off guard in 2006. Higher energy prices, a pullback in business investment, and the rapidly deteriorating housing and auto sectors in the U.S. led to slowing world demand, while production kept growing at a solid clip. But businesses are responding swiftly. Global factory output in the first quarter is on pace to grow at an annualized rate of only 1.8%, after slowing to 3.1% last quarter, from growth averaging 5.5% in the second and third quarters of 2006, according to JPMorgan Chase (JPM ).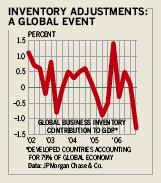 The adjustment is currently at varying stages across the globe. There seems to have been little to no inventory upswing in the euro zone; levels there are reported to be lean. But the correction is only starting in Japan, as output rose at an 11% annual rate in the fourth quarter last year. Continued weakness in U.S. housing and autos could mean more output cutbacks and inventory paring among suppliers in Canada and Mexico. The emerging Asian economies, which are heavily leveraged to global demand, may need to ease production a little more as well, says David Hensley, an economist at JPMorgan Chase.
As manufacturers get output and stockpiles back in line with demand, export growth could ease. In the U.S., overseas shipments of capital goods and industrial supplies would be most affected by any slowdown. Once the adjustments are complete, prospects should brighten, although the U.S. looms as a question mark: Businesses appear more cautious.
However, solid consumer demand worldwide has Hensley expecting global industrial production to grow 4% to 5% in the second half, with a speedup in exports. The downside from such a rebound: Higher rates of capacity use would lift inflation concerns among central banks, including the Federal Reserve.
By James Mehring in New York
Before it's here, it's on the Bloomberg Terminal.
LEARN MORE