U.S.: Consumers Are Bloodied But Unbowed
Strong job markets, especially in services, will trump the subprime mess
Over the past couple of years, consumers have faced one trial after another, from soaring gas prices to the slumping housing market. Now come new worries over subprime mortgages, a jittery stock market, and growing fears that the overall economy may be at risk. Will 2007 be the year that consumers finally stop spending?
Don't count on it. Through all the hardships, strong labor markets have always ridden to the rescue, and this year is unlikely to be any different.
The economy's slowdown in recent quarters has been confined almost exclusively to housing and manufacturing. What's gone largely unnoticed amid the glaring headlines about the housing recession and the downbeat factory data is the continued strength in the broad services sector. That's the area of the economy that has been generating plenty of jobs and income.
Service-producing industries represent 58% of the value of all final goods and services made in the U.S., and they account for 81% of all private-sector payrolls. Economic growth in the sector, measured by its part of real gross domestic product, was actually accelerating last year, with growth of 2.4% in the first half, 2.8% in the third quarter, and 3.8% in the fourth quarter, the fastest quarterly pace in almost three years.
Clearly, there are new risks in the outlook: Market jitters have made businesses a little more cautious, and the extent of the credit-market impact from the subprime mortgage debacle remains unknown. Some homeowners will suffer as credit gets tighter, but the steady gains in jobs and incomes will help to mitigate any broader impact on overall consumer buying. Tight credit rarely becomes a problem for the household sector as long as the labor markets are strong.
To date, service-sector companies show little hesitancy in adding new workers. Recent payroll gains suggest most businesses remain committed to expanding their operations, which is providing a key support for household spending. And new figures on household net worth show consumers still have a steady stream of wealth gains adding support to their financial condition.
THROUGH FEBRUARY, the job markets showed few if any signs of broad stress. Factory weakness is partly related to the housing slump, as business inventories have built up faster than desired, forcing cuts in orders and production. As in previous months, job losses in construction and manufacturing held down the overall increase in payrolls last month. Severe weather during the Labor Dept.'s survey week, always the week containing the 12th of the month, was also a depressant.
Payrolls increased by 97,000 workers in February, but that reflected a 168,000 gain in service-sector payrolls, vs. declines of 62,000 in construction and 14,000 in manufacturing. Health care, professional and technical services, entertainment, and food services were big gainers. In addition, the Labor Dept. continued its long-running pattern of revising past monthly gains upward. This time it added a net 55,000 more jobs to payrolls in both December and January, most of which were in service categories. Given the recent trend, the February increase could be revised higher as well.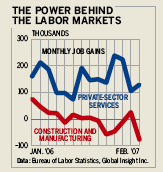 There was even some good news from manufacturers in February. Although factory jobs fell, the pattern of hours worked, including a rise in overtime, suggests manufacturing production rebounded last month. That bounce, likely to be confirmed by upcoming data on industrial production, would be consistent with results from other recent surveys of industrial activity. Firms appear to be making progress in bringing their inventories into better alignment with demand. Business stockpiles rose only 0.2% in January, continuing the slowdown from the rapid monthly increases last year.
WEATHER WAS A BIG FACTOR in both hiring and consumer buying last month. February retail sales barely rose from January, but many stores noted how harsh winter weather had restricted buying. Consumers did a lot of shopping from the shelter of their own homes. Nonstore sales, including catalog and Internet purchases, jumped 2.8% in February, after average monthly gains of only 0.5% during the previous year. Overall February sales were still at a high enough level to suggest real consumer spending in the first quarter will grow about 3%, a healthy pace by any standard.
The Labor Dept.'s tally of people who said they were not at work last month due to bad weather spiked to the highest reading since the blizzard of January, 1996, and the number was more than twice that recorded in February, 2005. Some of the drop in construction jobs reflected genuine housing weakness, but payrolls also fell sharply in areas where growth is strong, such as business construction and heavy engineering projects.
Even with the two big drags from manufacturing and construction, overall payrolls have posted average monthly gains of 162,000 during the past six months, a bit below the 171,000 per month over the previous six months. But look at service-sector jobs. During the same two periods, the gains there have accelerated, totaling 188,000 per month, up from 157,000.
SERVICE-SECTOR STRENGTH is why the jobless rate keeps falling. It hit 4.5% in February, and the recent pace of job growth, if continued, is fast enough to keep the jobless rate heading lower. Plus, consider that joblessness in construction has risen by almost two percentage points over the past year, to 10.5% in February. Outside of construction, the labor markets are even tighter than the overall 4.5% unemployment rate suggests.
The continued tightening in most sectors of the job market is adding to upward pressure on wage growth and helping to generate solid gains in workers' income that are more than double the inflation rate. Overall hourly pay of production workers in February rose 4.1% from a year ago, up from 3.1% in 2005 and 2.6% in 2004, and service-sector pay is leading the speedup. Also, the government says big accrued pay gains in the fourth quarter in the form of bonuses and stock options will add a boost to personal income in the first quarter.
In addition to healthy income gains, overall household balance sheets are also in excellent condition. Household net worth—assets minus liabilities—rose to a record $55.6 billion in the fourth quarter. As a percentage of aftertax income, it stood at the highest level in more than six years.
Homeowners' equity increased slightly, but the bulk of the rise reflected gains in the stock market. In the first quarter, the market sell-off will cap the quarter's increase in stock-related wealth, but it has not been large enough to create a significant drag. Moreover, wealth gains tend to support consumer spending with a lag, so last year's big gains will continue to boost this year's outlays.
Throughout this business cycle, consumers have shown surprising resilience time and again. However, given tight job markets, solid income gains, and healthy balance sheets, a continuation of that staying power in 2007 should come as no surprise at all.
By James C. Cooper
Before it's here, it's on the Bloomberg Terminal.
LEARN MORE