"Tremendous" Demand For Superior Energy Services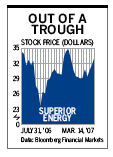 Superior Energy Services (SPN ) aims to be everything to oil-and-gas explorers in the Gulf of Mexico, and in most cases it is. One specialized service is "well intervention." It repairs and maintains onshore or offshore wells that are old or have been badly damaged by violent weather like Hurricane Katrina. "Superior can't keep up with the tremendous demand for its repair and recovery services, which will provide strong growth through the end of the decade," says Martin Sass, CEO of MDSass, which manages assets of more than $10 billion and owns a 1.2% stake. Superior also buys wells that the major oil companies abandon, resuscitates them, and keeps them in its own oil-and-gas unit. Sales and earnings have risen since 2001 when it earned 30 cents a share. By 2006 earnings had rocketed to $2.32. Its stock, up from 23 last Sept. 25 to 33.23 on Mar. 14, is selling at a 35%-40% discount to its peers, notes Sass. In the Gulf of Mexico, Superior has 56% of the business, but that figure may decline this year as the company pushes expansion elsewhere, including the Middle East, North Sea, and Venezuela, says Sass. Stewart Glickman of Standard & Poor's (MHP ), who rates Superior a "strong buy," sees profits in 2007 rising to $3.42 a share and to $4.13 in 2008.
Note: Unless otherwise noted, neither the sources cited in Inside Wall Street nor their firms hold positions in the stocks under discussion. Similarly, they have no investment banking or other financial relationships with them.
By Gene G. Marcial
Before it's here, it's on the Bloomberg Terminal.
LEARN MORE