Housing: Builders Bite The Bullet
Investors got nervous after the big fall in January sales of new homes. But it's unlikely that the housing recession has suddenly deepened. Rather, homebuilders have set themselves up finally to reduce their inventories of unsold homes.
The month's 16.6% plunge in home sales sent share prices of homebuilders reeling on fears that demand may have dropped another peg. U.S. economist Michael Moran of Daiwa Securities believes, however, that the "lion's share of the adjustment in housing construction is behind us." Moran points to the average gap between housing starts and new single-family home sales in the three months through January, which sank to a 25-year low of 179,333 on an annualized basis. Historically, housing starts outpace sales by about 400,000 per year. The perennial difference is due to individuals who hire a builder to construct their homes. These are captured in the housing starts data but not home sales figures since the units never hit the market.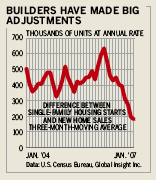 While sales have certainly slowed, the narrowing between starts and sales is largely the result of an abrupt pullback in new construction. Starts were off nearly 40% from a year ago in January, while sales were down 20% over the same period.
The adjustment in construction, especially relative to sales, will "lead to a drop in housing completions and a trimming of inventories," says Moran. Averaging the positive effects of mild weather on November and December housing statistics with the negative impact evident in January and (most likely) February, Moran sees sales hovering around an annual rate of 1 million homes. That would bring inventory levels back to a more comfortable level by early next year.
Clearly, risks remain. Government data don't put canceled purchases of new homes back into inventory figures. Tighter lending standards by banks could also reduce the number of potential buyers. Those factors would prolong the inventory adjustment. But otherwise it appears that the big economic drag from residential construction is set to ease.
By James Mehring in New York
Before it's here, it's on the Bloomberg Terminal.
LEARN MORE