Ethanol Is Music To Mosaic's Ears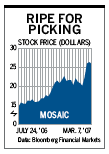 As corn prices shoot up--to $4.24 a bushel--largely because of demand from ethanol makers, fertilizer prices are soaring, too. Corn used for making ethanol in the U.S. has tripled in the past five years, to 2.2 billion bushels, and farmers need more fertilizer than ever to keep up with demand. Little-known Mosaic (MOS ) is a pure fertilizer play as it is the world's largest producer of phosphate and third largest of potash, both of which are used as fertilizer. "Farmers are expected to plant 87 million acres of corn this spring, and the challenge is how to increase their yield. That's where Mosaic benefits," says William Harnisch, president of Peconic Partners, which owns 5 million Mosaic shares. The stock has been on a tear, climbing from 13 in June to 25.95 on Mar. 7. The stock will hit 40 in a year, says Harnisch, because of the huge demand for corn that he believes will continue for years. Higher corn prices, he adds, will push farmers to apply more fertilizer to maximize yield. David Silver of JPMorgan Securities (JPM ) rates Mosaic overweight, based on stronger phosphate prices.
Note: Unless otherwise noted, neither the sources cited in Inside Wall Street nor their firms hold positions in the stocks under discussion. Similarly, they have no investment banking or other financial relationships with them.
By Gene G. Marcial
Before it's here, it's on the Bloomberg Terminal.
LEARN MORE