Charging The Batteries At Altair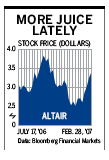 Altair nanotechnologies (ALTI ) (ALTI), a tiny outfit in the emerging nano market, has caught the eye of the likes of Alcoa (AA ) and Eli Lilly (LLY ). The big interest lately is in its rapid-charge, high-power NanoSafe battery packs. It has a three-year pact to supply its batteries to Phoenix Motorcars. One go-ahead sign: On Feb. 23, in connection with his new alternative-fuels policy, President Bush saw a demonstration of Phoenix' sport-utility truck, equipped with Altair's battery, along with four other vehicles. Altair uses nano-structured material for the negative electrode, which gives its batteries more power. At Alcoa, Altair provides batteries for its hybrid-electric delivery vans. And at Lilly, Altair helps make compounds to reduce kidney disease in cats and dogs. John Roy of WR Hambrecht, who rates the stock, now at 3.42, a buy, says 2007 orders from Phoenix alone could run up to $42 million. He upped his 2007 estimate from a loss on sales of $18.8 million to a profit of 8 cents a share on $32.9 million. Mark Harding of Maxim Group also has a buy based on Altair's pipeline.
Note: Unless otherwise noted, neither the sources cited in Inside Wall Street nor their firms hold positions in the stocks under discussion. Similarly, they have no investment banking or other financial relationships with them.
By Gene G. Marcial
Before it's here, it's on the Bloomberg Terminal.
LEARN MORE