As Tyco Splits Into Three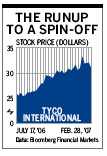 The deconglomeration of Tyco International (TYC ) (TYC) planned for the spring hasn't excited investors. But some pros, who expect the stock to jump when the idea of Tyco splitting into three catches on, have been buying shares. John Maloney, president of M&R Capital Management, says a sum-of-the-parts valuation puts Tyco's worth at 40. Losing the "conglomerate discount" and being free to "fly on their own" should give impetus to the three companies, says Maloney. The stock was at 30.83 on Feb. 28, following the board's decision in early January to O.K. the split. The plan is for Tyco to spin off two units--called Healthcare (24% of sales and 38% of operating profits) and Electronics (31% and 31%, respectively)--to Tyco shareholders on a tax-free basis. Tyco International will retain the unit embracing Fire & Security and Engineered Products (together they account for 45% of sales and 31% of profits). Owning 100% of three companies is a big bonus for current shareholders, Maloney says. "Tyco trades at multiples lower than comparable companies," says Charles Ronson, an analyst at Tradition Asiel Securities. "Three-way spin-offs," he adds, "create numerous market inefficiencies." Such inefficiencies usually offer opportunities that could add value. David Bleustein of UBS, which has done banking for Tyco, rates the stock a buy. He expects Tyco will earn $2.05 a share on revenues of $43.5 billion in the year ending Sept. 30, 2007, vs. $1.84 on $41.1 billion in fiscal 2006.
Note: Unless otherwise noted, neither the sources cited in Inside Wall Street nor their firms hold positions in the stocks under discussion. Similarly, they have no investment banking or other financial relationships with them.
By Gene G. Marcial
Before it's here, it's on the Bloomberg Terminal.
LEARN MORE