A Makeover For A Key Jobs Report
An overhauled version of Automatic Data Processing Inc.'s (ADP ) National Employment Report is due on Mar. 7. The changes should get monthly results a little closer to the Labor Dept.'s initial monthly payroll figure. But the report's more valuable contribution may be a better picture of the labor market in real time.
After being far off the mark a few times last year, the markets will be eager to see if the new ADP National Employment Report does a better job of foreshadowing the government's monthly measure of changes in private payrolls. According to ADP and Macroeconomic Advisers, the report's creators, historical data show that whenever the ADP estimate exceeds or undershoots the consensus expectation, the Labor Dept. number will do the same thing about 70% of the time. So the ADP data can be used to improve upon the consensus forecast. The changes also improve the accuracy of the monthly report relative to the government's results by about 17%.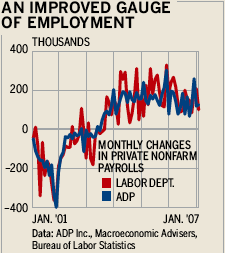 The ADP report now looks at nearly 400,000 businesses with payrolls totaling close to 23 million workers. That's larger than the initial pool used by the Labor Dept. Plus, the data are now being collected weekly, vs. monthly, and a more advanced seasonal adjustment is in place.
The two measures will still diverge from time to time. When that occurs, early evidence shows the ADP numbers come closer to the government's final annual employment revisions, released in early February, than the initial Labor Dept. jobs data. One reason is that the ADP report includes businesses not in the government's initial survey. That makes the report "particularly powerful if you are trying to understand what truly happened to employment, as it will eventually be reported by the [government]," says Macroeconomic Advisers Chairman Joel Prakken.
It will take time to convince the financial markets, but if the revised ADP report proves to be a reliable real-time estimate of true labor market conditions, it will end up being quite valuable.
By James Mehring in New York
Before it's here, it's on the Bloomberg Terminal.
LEARN MORE