The Man Behind the Cloning Movement
Why is Scott Simplot pushing so hard to clone animals for supermarket shelves? He's following in his father's footsteps
Pallavi Gogoi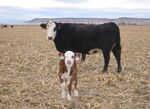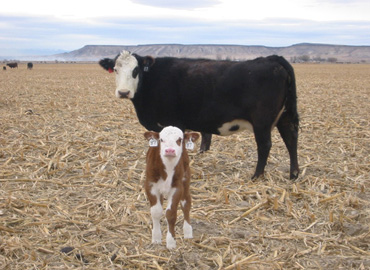 It's a cold February morning, and a thin layer of snow covers the ground at the Simplot ranch in Grand View, Idaho, about an hour south of Boise. Scott Simplot drives out to one of the nearby fields to see the cows giving birth. On the windswept field, the tall, wiry 60-year-old asks a ranch hand how the new calves are doing. He smiles when he hears that the first 26 calves weigh in at about average for the breed, 78 pounds each. These are no ordinary calves. They are the offspring of clones. "Great news," says Simplot.
This is the beginning of a grand experiment at the Boise-based J.R. Simplot Co., a producer of food, fertilizer, and livestock that was founded by Scott's father in 1923 and has become one of the largest privately owned companies in the U.S. Simplot is one of the first large beef-producing companies anywhere to clone cattle and then breed them on a commercial scale. Neither clones nor their offspring are in the food distribution system now. But if the Food & Drug Administration gives its approval as expected, Simplot plans to bring beef from the offspring of clones to market by next year. No other company has been nearly as aggressive in the controversial effort to clone animals for supermarket shelves. "Simplot is a pioneer in many senses, being the first adaptor of this nascent technology as a livestock producer," says Michael MacNeil, a research geneticist with the Agriculture Dept.'s research service in Miles City, Mont.
The effort is being spearheaded by Scott, the youngest son of J.R. (for John Richard) Simplot, one of America's legendary entrepreneurs. J.R. was an eighth-grade dropout who left home in the early 1920s at the age of 14 to set up his own pig farm. It was the first step he took toward becoming a billionaire potato baron.
Scott's personality is a striking contrast to that of his gregarious father. Unassuming, with a thoughtful, almost professorial air, Scott stayed in school long enough to get an MBA from The Wharton School of the University of Pennsylvania. He chafed under his father's strict hand and ran away repeatedly in his youth. But he clearly inherited some of his father's drive. "I guess we do share the same DNA," admits Scott, who is now chairman of J.R. Simplot Co.
Protesters' Beef
Because he has invested energy and money in cloning, Scott is now right in the crosshairs of a national controversy. Ever since Dolly became the first successfully cloned sheep in 1997, people have debated the promise and pitfalls of trying to create genetic copies of animals and perhaps one day humans. The controversy was reignited on Dec. 28, when the FDA issued a preliminary report concluding that meat and milk from clones are safe for consumption, opening the door for commercial sales. The FDA has asked for public comment on the issue through Apr. 2, but it appears very likely to give final approval by the end of this year.
The prospect of FDA approval has sent off waves of protests around the country. In February, about 100 protesters marched outside the U.S. Capitol. Protesters dressed in cow costumes, including some from the Consumer Federation of America and the National Farmers Union, chanted "Cloney Baloney" and other slogans. Their primary demand is that meat and milk from clones be labeled as such. "Consumers have a right to know what's in their food," says Jerry Greenfield, co-founder of Ben & Jerry's ice cream, who was also present at the protest. Retailers such as Whole Foods (WFMI) and Wild Oats (OATS) say they won't carry cloned products, and milk processors Dean Foods (DF) and Organic Valley insist they won't use cloning in their production.
Scott Simplot argues that the controversy is unwarranted. Cloning, he says, is simply another kind of technological advance, like fertilizer, that we should be using to full advantage. As he points out the calves sired by clones at his ranch, they gambol around playfully and behave just like other newborns. Simplot is dead set against clone labels, because he's convinced that would kill the business even before it starts. "The people who are having a fit over this are using technology every day in their lives, but they don't want others to benefit from it," he says.
Technology in the Blood
Technology is practically religion for the Simplots. It's intertwined with the history and success of the family company. In 1928, J.R. purchased one of the first electric potato sorters, so he could sort spuds for himself and his neighbors and friends. In 1941, he purchased a dehydrating machine, leading to his first big order for the U.S. military, for millions of pounds of dehydrated potatoes and onions during World War II. And in 1953, he earned a patent for frozen French fries, allowing Simplot to become the largest supplier of fries to McDonald's (MCD). The elder Simplot, now 98, is recovering from a head injury he sustained after falling at a football game in Phoenix on Jan. 1.
Scott has a similar taste for technology investments. Starting in 1980, he convinced J.R. to put $18 million into computer-chip maker Micron Technology (MU), an investment that grew to be worth over $1 billion in the 1990s. Today, he's backing a small Taiwanese company that's selling energy-saving lightbulbs in China and championing the use of genetics to create a healthier potato. He says the prospects for the cloning business today are a lot like those for Micron 25 years ago: "There was a feeling that great things are going to happen," he says.
One chilly morning, Scott steers his white Jeep Cherokee south out of the ranch, to show off the high-desert landscape where the cattle graze year round. Vegetation is sparse and steam rises from the ground in spots, signs of hot springs nearby. The Simplot family is one of the largest private landowners in the country, with about 270,000 acres stretching down to Nevada. "Our cows fend for themselves out here," he says. "They calve here and walk miles foraging for food. But it's not easy for them because these are barren, arid lands. They have to work hard for a living."
Bruneau's Example
Mother Nature puts on quite an act during the one-hour drive. Clouds swoop in, and the Jeep is quickly surrounded by lightning and loud thunder claps. A hailstorm leaves the road covered in a glistening white carpet. Then large snowflakes cover the Jeep, before the sun breaks through the clouds. Simplot points out clusters of cows and their newborn calves. At times, he stops the truck to look at the brands on the snow-covered cows, to see whether they belong to any of the Simplots' 15 ranches.
The destination for the drive is the Bruneau Canyon, a breathtakingly beautiful place, around which cows graze. Once there, Scott points out cows grazing on the other side of the gorge. "It's a rare sight," he sighs, picking up a rock and letting it fly down the canyon.
He tells the story of a cow that ranch hands found and named Bruneau, because she came from one of the Simplot ranches in the area. While most cows calve about six times during their lifetimes and live about eight years, Bruneau had had 13 calves and was 15 years old when she was discovered. Most cows lose or damage their teeth by the time they are seven or eight, so they can't graze for the grass that grows around the rough sagebrush anymore. But Bruneau has kept her teeth intact, even today at 17. She is one of the cows that Simplot has cloned. "She must have had a host of things right to have survived this land year after year," Simplot says. "The miracle is that nature has preselected her and now we can reproduce her, something we couldn't have done before."
Careful Selection
Over the past four years, Simplot's crew has cloned a total of 22 head of cattle. His scientists take a cell from a donor animal and place it in an egg from which all the genetic material has been removed. The embryo is then placed in a cow who births a calf after the normal nine-month gestation period. The resulting animal is identical to the donor in genetic makeup.
The process is expensive, $16,000 for each clone. So the cattle are carefully selected for traits that are particularly important. Bruneau was chosen for her ability to reproduce. Another cow selected produces 38,000 pounds of milk a year, compared with the average of 19,000 pounds. A third was chosen because its meat is the highest grade as rated by the USDA, with plenty of marbling within lean muscle (see BusinessWeek.com, 3/7/07, "Why Cloning Is Worth It"). Because of the cost, it's highly unlikely that any company will sell the clones themselves. Instead, the idea is to create genetic duplicates that will consistently produce superior offspring. Today, the ranch is expecting close to 100 offspring from its first two clones.
Simplot and his wife, Maggie, take me to dinner at a steakhouse in Boise. It's owned by a Simplot board member, one reason Scott says he likes to give them business. He's quickly ushered to the best table in the restaurant, next to a crackling fireplace. We have rib-eye steaks and a bottle of California cabernet.
Rebellious Youth
In spite of their similarities, Scott and his father have a relationship that has been anything but smooth. Like his two brothers and his sister, he admired his father growing up but rebelled against his strict parenting. Between bites of steak, Scott says his father believed in "do it because I told you to" and "command and control," with all the kids required to work tough jobs. At 12 and 13, Scott spent the summer months herding cattle on the open plains with the buckaroos. Later, he worked on the farm baling hay, building fences, and working the horses.
"That went on until my senior year of high school when I broke away from that. Then, I was in total rebellion," he says. Scott went to college and later graduate school in large part to stay away from the ranch. "It was all about doing anything that was other than what I was told to do," he says.
What did his father think about his going to Wharton? "It's almost too complicated to put into words," he says. "He wasn't exactly ambivalent, but somewhat close to that. Going to school was fine, but what wasn't fine was to reject the business. It was okay that I got an MBA, but he didn't quite understand what it was or what it meant or what it took to get one."
"Impossible Dream"
Scott says that what his father always loved about business was the excitement, the adrenaline rush of whipping people up to accomplish the impossible. "He's so enthusiastic about life," Scott says. "He truly wants everybody charging forward to build something big. It's all about the chase and, boy, it's exciting. He's lived his whole life that way."
Asked whether J.R. has approved of any of his ideas, Scott looks away. "He passes out approval very meagerly, if at all, and I'm afraid I'll probably lose him by the time any of my current investments start hitting the bottom line." But Scott thinks the Simplot ranch once again has a pulse of excitement. "Why are we out doing something that is the equivalent of the impossible dream?" he asks. "Part of me wants to believe that if it's hard to do maybe that's where you spend your time."
Clearly Scott is taking a huge gamble. If protesters gain political traction, and the FDA does not grant approval for cloned foods, all of his efforts will have been in vain. Even if it does, labeling the meat or milk from clones likely will make it a difficult sell. Politicians are already taking up the issue. "The American people don't want this. They find it repugnant!" says Senator Barbara Mikulski (D-Md.). On Jan. 31, she introduced the Cloned Food Labeling Act, which would require that meat and milk from cloned animals be labeled.
Many Skeptics
Opponents are fighting cloned food for many reasons. One criticism is that the science involved in cloning is so new. Amy, the first cloned cow, was born in 1999. There are fewer cloning problems and failures than before, but not enough to appease critics. "Cloning will be yet another tool in the technically engineered, chemically intensive, factory-farm approach to food production," says Greenfield of Ben & Jerry's (see BusinessWeek.com, 3/7/06, "The Case Against Cloning").
Most consumers are steering clear of clones. Gallup polls report that over 61% of Americans think it is immoral to clone animals, and the Pew Initiative on Food & Biotechnology found that a similar percentage say they won't buy cloned milk, despite FDA approval. Some 3,000 people have already posted their comments with the FDA, during the period for open comments that runs for another month. One consumer Stephen Ziffer writes: "The risk to citizens forced to consume products from cloned animals is unknown and should not be approved."
But Scott stands firm in his belief that we are at the dawn of a new era, one with stronger animals that produce better food for all of us. "It would be a travesty for us to know as much as we do and not be able to bring it to the table," he says.