business
Kitchen Remodelings Are Getting Deluxe
By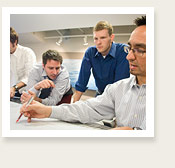 Architects say these are the latest trends in kitchens:
--Bigger pantries
--Wine storage areas
--Recycling centers
--Duplicate appliances
--Computer work areas
--Warming drawers
--Separate areas for food preparation (and you thought that a kitchen was the food-preparation area)
--Bamboo floors, which are considered ecologically "green"
--Concrete countertops, also regarded as "green"
--Drinking water filtration systems
All this comes from a report by Kermit Baker, chief economist of the American Institute of Architects, based on the fourth-quarter AIA Home Design Trends Survey. For more, click here.

Before it's here, it's on the Bloomberg Terminal.
LEARN MORE