Cash Registers Are Ringing Online
When it comes to analyses of consumer spending, online sales are often overlooked. But retail e-commerce sales growth far outpaces that of overall consumer spending and shows no sign of letting up. That means online sales will only grow in importance when it comes to gauging the health of consumer spending.
Fourth-quarter retail e-commerce sales surged 24.6% from the previous year, according to the U.S. Census Dept. That rapid growth is a reason why fourth- quarter non-auto and non-gasoline retail sales looked much better than the widely followed chain-store sales figures.
The quarterly e-commerce figures also far exceeded the government's strong monthly figures for nonstore retailers, which includes catalog and other forms of direct sales. Fourth-quarter nonstore sales grew 7.6% from the year before, beating most other retail categories.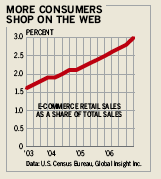 As more consumers buy online, e-commerce sales account for a larger chunk of overall retail spending. Sales of $108 billion in 2006 topped those at electronics and appliance stores. And in the final quarter of 2006, online shopping accounted for 3% of total retail sales, nearly double the share at the end of 2002.
The torrid growth of online retail sales should continue through 2007. According to the research firm Cowen & Co., e-commerce retail sales will climb another 20%, to $129 billion, in 2007. One apparent reason for the ongoing strength is that e-commerce retailers are doing a good job. The fourth-quarter American Customer Satisfaction Index from the Stephen M. Ross School of Business at the University of Michigan showed an improved score for e-commerce businesses. In particular, online retailers are one of the highest-rated among the 43 different industries covered by the survey.
While the law of large numbers means growth of more than 20% per year will be hard to sustain, e-commerce sales are expected to climb at a double-digit pace for the rest of the decade, reaching 4.3% of total sales by 2010.
—By James Mehring in New York
Before it's here, it's on the Bloomberg Terminal.
LEARN MORE