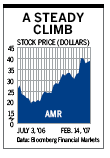 Airline consolidation hasn't stopped despite US Airways' (LCC ) failed run at Delta Air Lines (DALRQ ). "It's not over," says Ray Neidl of Calyon Securities, and mergers and acquisitions should heat up soon. The buzz: AMR (AMR ), parent of No. 1 American Airlines, is a buyout target of a group that includes Goldman Sachs (GS ) and British Airways (BAB ), say people familiar with the matter. In private discussions, the proposed bid is said to be between 46 a share, or $9.8 billion, and 52, or $11.1 billion. AMR now trades at 38.57, or $8.2 billion. It's uncertain a deal will materialize, the sources say. Foreign airlines are limited to a 25% stake in U.S. carriers. "I wouldn't be surprised," says Jim Corridore, airline analyst at Standard & Poor's, if private buyers were eyeing AMR. It has a market cap of $8 billion, with $23 billion in revenues and a $6 billion cash hoard. Of course, he adds, AMR also has labor issues, $18 billion in debt, and underfunded pension liabilities. Both Goldman and British Airways said they didn't comment on speculation. AMR's Tim Smith said: "We talk to lots of people, but until discussions result in anything of substance, we simply do not comment." Wall Street looks at airlines more favorably now because of stronger demand and lower fuel costs. And AMR, serving 150 cities worldwide, excels in efficiency and has huge free cash flow. "With oil prices at $58 a barrel, AMR will spend $850 million less for fuel in 2007 and will generate $2.3 billion in free cash," figures Kevin Crissey of ubs (UBS ), which has done banking for AMR. He rates the airline a buy, with a 12-month target of 54. Crissey has hoisted his 2007 earnings forecast from $4.46 to $6.12 a share, vs. 2006's $1.43 (before charges).
Note: Unless otherwise noted, neither the sources cited in Inside Wall Street nor their firms hold positions in the stocks under discussion. Similarly, they have no investment banking or other financial relationships with them.
By Gene G. Marcial
Before it's here, it's on the Bloomberg Terminal.
LEARN MORE