GDP Revision: Getting Our Losses Behind Us
When the second look at fourth-quarter economic growth comes out on Feb. 28, expect a big downward revision to the 3.5% increase originally reported. It turns out that businesses clamped down on inventory growth more aggressively than anyone thought.
The monthly figures on business inventories showed no change, while the November gain was revised down slightly. The results not only fell short of what many economists forecasted but also were less than expected by the Bureau of Economic Analysis, the agency that tabulates gross domestic product.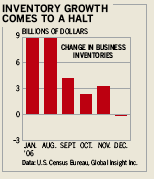 In the initial gross domestic product report, the BEA only has inventory data for the first two months. It estimates changes in inventory levels among nondurable manufacturers, as well as retailers and wholesalers for the final month of the quarter. In the initial fourth-quarter report, the BEA plugged in a 0.6% increase for December inventories, which led to the estimate that slower inventory accumulation deducted 0.7% from overall growth.
Now it looks like the hit will be closer to 2%, says Mike Englund, chief economist at Action Economics. Along with weaker construction outlays and larger import results, there's a good chance that fourth-quarter growth could approach 2%.
However, the sharp inventory adjustment should translate into brighter prospects for economic growth going forward. While the correction is continuing into the first quarter of this year, especially in autos, it could be completed very soon. "As long as the sales trajectory remains solid, the inventory correction will be of finite length and now looks poised to end before March," says Englund. That view is bolstered by further sales gains among retailers in January.
Once businesses get inventories to more comfortable levels and the drag from the housing bust subsides, economic activity should pick up even more steam. After a decent first quarter, Englund expects the economy will grow a solid 3% or more for the rest of the year.
By James Mehring in New York
Before it's here, it's on the Bloomberg Terminal.
LEARN MORE