U.S.: Business Is Still In An Expansive Mood
Capital spending, a powerful growth engine, looks set to rebound
American businesses got a bad case of the jitters last year. You can't blame them: Oil shot above $70 per barrel and seemed to be on its way to $80. Housing fell into a recession with much fretting over a broader downturn in the economy, and the Democrats took over Congress, creating a new uncertainty over the direction economic policy was headed. Business confidence buckled and, by yearend, worries about the future had translated into an outright decline in capital spending, the first quarterly drop in almost four years.
Lurking amid the positive surprises in the government's fourth-quarter report on economic growth, which showed real gross domestic product increasing at a strong 3.5% annual rate, was an unexpected 0.4% falloff in business investment in new machinery and facilities. Spending on equipment and software dropped 1.8%, while construction outlays grew only 2.8%, the slowest pace in five quarters.
All this sets up a crucial question for the 2007 outlook: Will businesses venture out of their foxholes? More specifically, can we count on outlays earmarked for replacement, expansion, and innovation to play their always important role as engines of growth?
Based on the underlying factors that typically drive capital spending, there is every reason to believe last year's slowdown was not the beginning of a lasting pullback that could crimp the economy's prospects. In fact, capital spending is likely to speed up again in coming months and be a growth leader for 2007.
The list of supports already in place is long: The most important, demand, remains strong both at home and abroad. Capacity use is already at a high level. Profits are still making healthy gains. Corporate balance sheets are in great shape, and financial conditions remain accommodating. At the end of last year, CEO confidence ticked up a bit, and capital-goods orders rebounded, as did output of business equipment. Even oil prices, while pushed back up by winter's chill, are still down to where they were this time last year.
IF BUSINESSES WERE CONCERNED about the housing slump putting a damper on demand, last quarter's GDP report buried that notion once and for all. The importance of the GDP data for capital spending was not so much the economy's surprisingly strong overall growth rate but the speedup in total demand for goods and services, which grew at a 4.2% annual rate. That gain was especially impressive because it occurred amid a 19.2% plunge in outlays for residential construction.
Most notably, real consumer spending grew at a 4.4% rate. Except for the 4.8% gain in the first quarter of last year, that was the strongest quarter for consumers in almost three years. Foreigners weren't shy about spending, either: Real exports jumped 10%. Overall, outside of the housing slump, demand in 95% of all spending categories was up 4.4% from a year ago, the fastest annual advance in almost seven years.
CONSUMERS REMAIN ROCK STEADY not just because of lower fuel prices. Yes, cheaper gas and heating oil helped to boost buying power, so fewer outlays for gas meant more income could go for other things. But spending on items other than energy and food also accelerated last quarter, in terms of both actual dollars spent and after adjusting for inflation.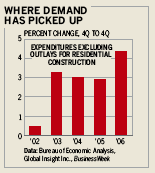 The more important lift for household spending is coming from strong labor markets and income growth. Despite the slower pace of job growth in January, there are few signs that businesses are cutting back their payrolls. That's a positive sign for capital spending because the growth rates of hiring and business outlays are highly correlated.
Payrolls rose by 111,000 workers last month, less than in recent months, but given the Labor Dept.'s recent penchant for revising their initial estimates upward, the smaller-than-expected January gain should be taken with a grain of salt. Labor subsequently lifted the November and December job gains by a total of 81,000.
That's not the half of it. The Labor Dept.'s annual benchmark revisions added 754,000 new jobs from March, 2005, to March, 2006, and Labor raised its earlier numbers on payrolls from March, 2006, to December, 2006, by 179,000. The bottom line: Before these revisions, payrolls were thought to have grown by 3.3 million jobs from March, 2005, to December, 2006; after a second look, job growth turned out to be 4.3 million. During 2006, incomes from wages and salaries rose 4.2% after adjusting for inflation, the strongest year since 2000. No wonder consumers have been so resilient.
MORE IMPORTANT for the corporate sector and its future spending, the economy is also generating plenty of profits. Last quarter's drop-off in capital spending is both inconsistent with the vigor in hiring and runs against the strength in earnings. Profits drive capital spending, and earnings are holding up much better than most analysts expected.
Through Feb. 2, with 308 of the 500 companies in the Standard & Poor's 500-stock index having reported for the fourth quarter, earnings are on track to grow 10.4% from a year ago, based on Thomson Financial's blended growth rate, which combines actual reports with the current expectations of those companies yet to report. So far, 64% of companies are beating estimates, which is above the 60% typical for a given quarter.
Perhaps more significant is that the double-digit profit showing has been greatly reduced by the yearend plunge in oil prices, which narrowed the earnings of energy companies. Excluding the energy sector, Thomson says profits in the remaining nine sectors of the s&p 500 are up 14.5%. And there is no sign that overall profit margins face any kind of severe squeeze. Margins appear to be holding close to the record levels posted through the third quarter of 2006. Given the river of internally generated funds and readily available outside credit, corporate financing conditions are very supportive.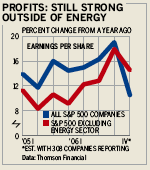 There were some signs at the end of last year that businesses were shedding their caution. In December, new orders for capital goods (outside of the big ups and downs in the aircraft sector) rose a solid 3.1% after two declines in a row; and production of business equipment posted a 1.6% gain, the strongest since last April.
Plans for new business construction in 2007 also look solid, suggesting the yearend slowdown in new-facility outlays does not presage more softness. Prior to last quarter's slowdown, outlays for business construction had grown 14.1% per quarter during the previous year. For 2007, growth is expected to match the 2006 pace, according to the American Institute of Architects' panel of forecasters, with strength concentrated in offices, hotels, and health-care facilities.
Given a healthy economy, high rates of return on new projects, the excellent financial condition of the corporate sector, and the low cost of capital, businesses have every reason to take advantage of growth opportunities in 2007. So look for companies to move forward with their expansion plans at a faster rate as the year progresses.
By James C. Cooper
Before it's here, it's on the Bloomberg Terminal.
LEARN MORE