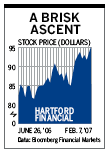 Shares of insurers are hardly on fire, but Hartford Financial Services (HIG ) stock is lit. It streaked from 84 on Dec. 4, 2006, to 95.90 on Feb. 7--and is still climbing. "The stock has some distance to go, most likely to 150 in 12 months," says Edgar Wachenheim, president of Greenhaven Associates, which owns shares. The multiline insurer easily beat the Street's fourth-quarter profit forecasts and has been racking up annual gains in earnings of 10% since 1995. It has diversified away from the most cyclical and risky lines of property and casualty (P&C) insurance, says Wachenheim. It has increased, he notes, its retirement products, including mutual funds, annuities, and management of 401(k)s. In 2006, assets of its Hartford Life Insurance unit, which include retirement products, grew at 18%. As corporations shift away from defined-pension plans into defined-contribution, says Wachenheim, individuals look for safer ways to provide growing streams of retirement income, such as those Hartford offers. Nigel Dally of Morgan Stanley (MS ), which owns shares and has done banking for Hartford, rates the stock "overweight." Hartford is one of "our best ideas for 2007," he says. Some investors may worry about deteriorating prices in its P&C business, he says, but Hartford derives about half of its earnings from its life and annuity lines, and "results there suggest a strong growth story." He foresees earnings of $9.70 a share in 2007 and $10.60 in 2008 vs. $9.06 in 2006.
Note: Unless otherwise noted, neither the sources cited in Inside Wall Street nor their firms hold positions in the stocks under discussion. Similarly, they have no investment banking or other financial relationships with them.
By Gene G. Marcial
Before it's here, it's on the Bloomberg Terminal.
LEARN MORE