Multinationals: Expanding Abroad—And Growing At Home
Foreign direct investment by U.S. businesses and investors in 2006 is on track to be the second highest on record. Meanwhile, manufacturing payrolls fell for a ninth straight year. Based on those trends, it would be easy to conclude that Corporate America is engaging in widespread outsourcing with potentially detrimental effects on the U.S. economy. But more detailed figures from America's big companies paint a different picture: About 88% of sales among foreign affiliates of U.S. multinationals are made in the local country and other places outside the U.S.
Those are the latest numbers from a Bureau of Economic Analysis annual survey of U.S. multinational operations for 2004. The total is up slightly from the 1994 results. Plus, domestic operations of U.S. multinationals "have maintained a steady share of the economy," says Daniel J. Meckstroth, chief economist at the Manufacturers Alliance/MAPI, a nonprofit policy research organization.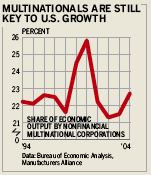 In 2004 output of nonfinancial U.S. multinationals accounted for 22.7% of nonfinancial gross domestic product, virtually unchanged from 1994. And while manufacturing's share of the U.S. workforce and economic output have fallen, the government data show the rate of decline among multinational and non-multinationals is very close.
The results do not imply a large-scale movement of operations abroad by U.S. business. Rather, companies want to expand their global presence, and this larger scale of operations requires more workers at home to manage the business, says Meckstroth. That means greater demand for high-skill jobs in areas such as professional and business services, where hiring is strong.
With global growth expected to hold up quite well this year, U.S. multinationals are likely to keep up with their foreign expansion plans and invest heavily abroad. Expanding into faster-growing markets should bolster both profits for multinationals and hiring at home--not a bad combination.
By James Mehring in New York
Before it's here, it's on the Bloomberg Terminal.
LEARN MORE