U.S.: A Stronger Economy? Yes. Higher Inflation? No
The rules have changed. Business is focused on cost control, not prices
Ask investors, especially those in the bond market, where they think inflation is headed in 2007, and they will most likely say down. They are probably right, but maybe not for the reasons they think. Many expect the economy to be weak enough to allow core inflation, which excludes prices for energy and food, to fall. The twist is that the economy is already proving stronger than anticipated, but despite that vigor, inflation may well decline anyway.
There is still a sense in the markets that a strong economy means higher inflation, and a weak economy means lower inflation. But over the past decade, the growth/inflation relationship has become a lot fuzzier, because the processes that influence inflation have changed drastically. A lot of market folks still haven't caught on, which can lead to misguided expectations about Federal Reserve policy and interest rates.
To begin with, the Fed has built enormous credibility as an inflation fighter, and central banks around the world have placed a new emphasis on inflation control. These efforts have held down expectations of future inflation among both businesses and consumers. With expectations more firmly anchored, it's harder for inflation to spiral upward as an economy strengthens.
The overarching change, however, is the way globalization and technology have altered corporate pricing behavior in the face of rising costs. The resulting intensification of competitive forces limits the ability of companies to simply mark up prices based on cost increases. It has made cost control, rather than pricing power, the driving force behind corporate profit margins and earnings growth. Late in a business cycle, as now, when cost pressures from labor and other resources begin to rise, businesses have to bolster their profits by cutting costs, not by raising prices. Those that fail to do so see their margins squeezed.
RISING COST PRESSURES of late, especially from tighter labor markets, are already beginning to send up caution flags in some corners of Wall Street. Some analysts note that last year's economic slowdown did nothing to vent the steam in the labor market: In fact, the unemployment rate continued to decline. Now reports indicate that the economy is picking up again, suggesting job markets may tighten even further this year.
In the past, labor costs have been a central factor pushing companies to lift prices, but this time the pressures may not be as intense. For example, although job markets were tightening last year at the same time energy costs were soaring, pricing power made only limited gains. Still, profit margins widened to record levels, and earnings kept beating expectations. The latest industry survey by the National Association for Business Economics shows margins continued to make steady improvement heading into 2007. This pattern is hardly a sign of burdensome costs, and it suggests the labor market may have room to tighten further in 2007 without putting severe pressure on costs or prices.
ONE AREA WHERE cost control in the labor market is vividly apparent is corporate benefits, particularly for health care. As businesses have shifted much more of that burden to workers, expenses for all benefits, about 30% of corporate labor costs, have slowed sharply. Two years ago, benefits were growing 7.2% per year, according to the Labor Dept. As of the third quarter of 2006, benefits were up only 2.9% from the year before.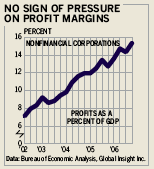 Another major change lowering costs is the proliferation of performance-based pay, compensation that is directly linked either to productivity or to a company's profits. Paying a worker for more productivity doesn't lift the labor cost per unit, so price and profit margin are not affected. The same is true for pay linked to profits, such as bonuses or stock options, two practices that have worked their way down the job ranks and boosted recent readings on labor income.
Technology is another factor. It's not just that businesses have new tools to lift productivity and cut costs. Also important, the Internet has cut into the information advantage sellers used to hold over buyers. Given a greater flow of information on products and their costs, buyers have more power in the marketplace, a shift that has added another layer of competitive pressure on businesses to restrain their costs and prices.
One of the biggest problems in assessing the inflation outlook is knowing which measure of labor cost tells the true story. Right now, the most worrisome-looking gauges are the least credible. Take the gains in average hourly pay for production workers, which have accelerated from 2.5% in 2004 to 3.2% in 2005, and to 4.2% in 2006.
But that measure is not adjusted for the changing mix of jobs surveyed, which in recent years has favored higher-paying industries, such as business services and health care, thus lifting the average. The Labor Dept.'s employment cost index, a more comprehensive measure of hourly wages, is not affected by changes in composition. It shows annual growth of only 2.5% in 2005 and 3.1% through the third quarter of 2006.
Another case is unit labor costs, or compensation adjusted for productivity. The Labor Dept. offers two versions: one for the nonfarm business sector and one for the nonfinancial corporate sector. The former shows unit costs through the third quarter up 2.9% from the year before, while the latter has risen only 0.5%. Many economists, even some at the Fed, believe the tamer-looking cost measures are closer to the truth.
FINALLY, THE MAIN INFLATION GAUGE, the consumer price index, needs to be interpreted with care. Fed officials believe the CPI overstates the true rate of inflation. That's why they concentrate on the price index for personal consumption expenditures, minus energy and food. Last year, the core CPI rose 2.6%, while the Fed's preferred gauge was up only 2.2% as of November.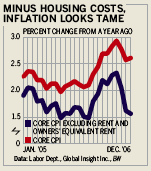 The behavior of housing costs in the CPI will also add a downward tilt to core inflation in 2007, after pushing it up in 2006. The cost of homeownership in the CPI is based on what a home would bring on the rental market. Last year, soaring home prices made renting more attractive, pushing up the demand for rental units, and with it, rents. This imputed cost, which is 30% of the core CPI, accelerated sharply last year and more than accounted for the speedup in core inflation.
This effect will reverse in 2007, pushing core inflation down. Rents will fall as more affordable home prices lift home demand and unsold condominiums languishing on the market are converted to rentals. Excluding rents and rent-based housing costs, annual core inflation is already falling, ending 2006 at only 1.6%.
The bottom line: An economy that ends up stronger than the markets now expect would kill investors' hopes for Fed rate cuts this year. But it would not automatically imply higher inflation that would force the Fed to hike rates. The result might well be a year of solid growth, low inflation, and stable interest rates. That's a scenario any investor would welcome.
By James C. Cooper
Before it's here, it's on the Bloomberg Terminal.
LEARN MORE