It's Not Just Weather Heating Up The Data
From hiring to retail sales to manufacturing output, most of December's economic data were surprisingly strong. Weather would seem to be a logical cause, given that it was the fourth-warmest December in the U.S. since 1895.
But an historical look at temperatures and various economic indicators by economists at JPMorgan Chase (JPM ) shows that unseasonably warm temperatures in the winter provide little pop to economic growth. Construction is the only sector that is meaningfully affected by colder weather. The warm December temperatures likely raised the seasonally adjusted number of housing starts by about 43,000 at an annualized rate and held the drop in construction payrolls to 3,000, vs. 21,000 had temperatures been more normal, according to JPMorgan.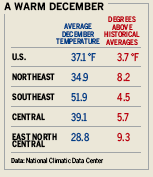 The economic boost from warmer temperatures is bigger in January than it is in December, but the impact is still rather limited. Because the government conducted its January employment survey while temperatures were still mild, JPMorgan economist Haseeb Ahmed expects construction payrolls to be 50,000 higher than they otherwise would be, a result of fewer seasonal layoffs.
Rather than reflecting warmer temperatures, the December numbers most likely indicate better economic fundamentals heading into the new year. Ahmed believes that the stronger economic performance is largely attributable to a healthy job market and lower energy prices, which are allowing consumers to keep spending.
Indeed, the weather may provide a lasting benefit through the winter because it has lowered demand for energy products. "Reduced energy consumption for heating purposes has contributed to abnormally large stockpiles—and declining prices—of propane, natural gas, and home heating oil," says Richard DeKaser, chief economist at National City Corp. (NCC )
If temperatures remain normal, ample energy inventories should continue to restrain prices and allow the economy to keep its momentum.
By James Mehring in New York
Before it's here, it's on the Bloomberg Terminal.
LEARN MORE