Where The Jobs Are: Everywhere
The labor market is heating up across the globe. Businesses in developed and emerging economies alike are adding workers at a rapid clip as the global economy keeps expanding. If the hiring trend persists, it could have important implications for the U.S. economy.
Employment growth outside America is at its fastest rate since 2000. According to JPMorgan Chase & Co. (JPM ), in September, 2006, the latest period available, overall job growth in 18 countries was up 1.8% from the previous year. The pace is also better than in the U.S., where employment in December was up 1.4% from a year ago.
Early returns on job figures during the fourth quarter remain strong around the globe. The most recent job reports from Canada, Argentina, Australia, and Britain were positive, and the outlooks for employment remain upbeat as well. In Brazil, for example, the Institute of Applied Economic Research, a government-run public foundation, is forecasting job growth of no less than 2.7% for 2007.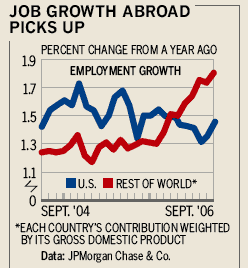 In addition to continued hiring, JPMorgan Chase economist David Hensley wrote in a Jan. 8 research note, "We look for a broader acceleration in wage growth in 2007 as unemployment rates fall further and companies compete more aggressively to fill positions." That bodes well for U.S. multinationals and exporters. Tighter labor markets should lead to stronger consumer demand, which would boost business activity and investment spending.
But signs of accelerating wage gains will also lead to higher rates, says Hensley: Central banks in Britain, Canada, and the Scandinavian countries would raise rates in response to faster wage gains, but the "European Central Bank also will be sensitive to signs that wage growth has turned up."
If the Federal Reserve holds rates steady as hikes abroad occur, the dollar could face greater downward pressure. That would make American-made goods more attractive abroad and fatten profits earned outside the U.S. when they are turned into greenbacks.
By James Mehring in New York
Before it's here, it's on the Bloomberg Terminal.
LEARN MORE