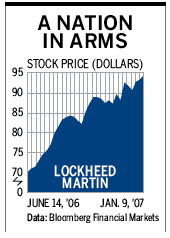 Worries that democrats in Congress may roll back defense outlays doesn't faze fans of Lockheed Martin (LMT ), the No. 1 maker of military weapons. Although the Street has been cautious, with just 9 of 22 major analysts who track Lockheed bullish, the stock has rocketed from 72 in July to 94.66 on Jan. 10. One bull is Standard & Poor's (MHP ) Richard Tortoriello: The U.S. is "phasing out aging equipment," and Lockheed will benefit immensely, he says. Moreover, the threats from Iran and North Korea, plus the Iraq crisis, will make it tough to cut spending, he adds. The Defense Dept. has rejected plans of the Navy and Air Force to reduce the number of Lockheed F-35 Joint Strike Fighters they're buying. Lockheed primarily makes fighter planes, including the new F-35s that are to replace the aging planes such as F-16s. The F-35 program "will be the biggest, costing $276 billion," says Tortoriello. Lockheed spokesman Tom Jurkowski says the F-35s will be operational, initially for the Marines, by 2012. Lockheed also makes space satellites, land-sea missiles, and electronic surveillance systems. "Lockheed's return on invested capital is solid," notes Tortoriello. It zoomed from 0.4% in 2000 to 17.5% in 2006. He sees earnings of $5.50 a share for 2006 and $5.75 in 2007. Goldman Sachs (GS ), which put Lockheed on its primary, "conviction" buy list, with a six-month target of 102, says the Defense budget for fiscal 2008 will boost the stock because it "will be favorable to Lockheed's programs."
Note: Unless otherwise noted, neither the sources cited in Inside Wall Street nor their firms hold positions in the stocks under discussion. Similarly, they have no investment banking or other financial relationships with them.
By Gene G. Marcial
Before it's here, it's on the Bloomberg Terminal.
LEARN MORE