Housing: The Best Indicators Of A Rebound
Has the home market hit bottom? That is the key question for the U.S. economy in 2007. According to some housing indicators, there is some light at the end of the tunnel for homebuilders, but that cautious optimism comes with caveats.
To get the most reliable signal that the housing recession is over, keep an eye on the average monthly supply of new homes for sale and the average mortgage rate each quarter. Analysis by Goldman Sachs U.S. economist Edward McKelvey of eight pieces of housing data widely used as leading indicators of the housing cycle showed those two series are better than quarterly averages of new and existing home sales, housing starts, mortgage applications, housing affordability, and homebuilder confidence.
In housing market upturns, all eight indicators do a good job of forecasting market peaks by two to five quarters. However, "a contraction is swifter and more cathartic," says McKelvey. That places a premium on indicators that give a more consistent signal.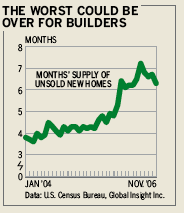 The monthly supply of homes--a ratio of new home inventories and home sales--has peaked one quarter before residential investment bottomed every time since 1961. Mortgage rates are nearly as consistent over that same period and have a similar lead time.
The supply of new homes for sale in the fourth quarter should decline after a November reading of 6.3 months, from 6.7 in October and the recent peak of 7.2 months last July. Mortgage rates also fell in both the third and fourth quarters of 2006.
But homebuilders are not out of the woods yet. The Census Bureau doesn't track cancellations, which stood around 7% of total sales contracts in 2006, vs. less than 4% in 2005, according to the National Association of Home Builders. As a result, reported sales are too high, inventories are too low, and changes in the monthly supply may be skewed. Investors also expect the Federal Reserve to cut interest rates in 2007. If the Fed raises rates, or even stands pat, mortgage rates are likely to rise, putting more stress on builders.
By James Mehring in New York
Before it's here, it's on the Bloomberg Terminal.
LEARN MORE