Small Business: Just When Hopes Were High
Small businesses are losing confidence as the economy continues to soften. A slower pace of economic growth in the U.S. is translating into reduced sales and income, which is likely to cause smaller businesses and entrepreneurs to reduce hiring and capital spending early in 2007.
A weekly survey of businesses by Moody's (MCO ) Economy.com shows that confidence among those with under 600 workers is at a three-year low. Smaller businesses have been feeling less confident than large companies since early December, after expressing greater optimism for more than a year.
There are several reasons for the rapid fall in confidence among small businesses. The housing recession is having a large impact on small businesses. "A higher proportion of hard-pressed construction and real estate businesses are proprietorships," says Mark Zandi, chief economist at Moody's Economy.com. Plus, large businesses typically see a larger chunk of their earnings come from abroad, where economic growth is holding up well and the weaker dollar is boosting profits in dollar terms.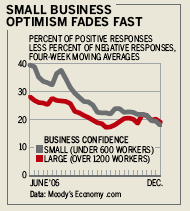 These differences are showing up in other data. Through November, income among sole proprietors is on track to grow 2.7% from a year ago in the fourth quarter. That would be the smallest gain since early 2003, and it contrasts with the resilience shown in corporate profits. The monthly survey of small businesses by the National Federation of Independent Business showed a greater share of respondents reported declines in earnings during the three-month period through November. Sales also appeared to ease over the period.
The erosion in conditions and confidence among small businesses could affect economic activity next year. Fewer small businesses are now making capital investments compared to the first half of 2006. Softer profit and proprietors' income foreshadows weaker hiring later on, says Zandi. That implies weaker job growth as small businesses scale back, leaving their bigger cousins as the primary sources of hiring.
By James Mehring in New York
Before it's here, it's on the Bloomberg Terminal.
LEARN MORE