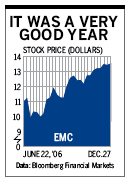 In 2000, when tech stocks were all the rage, EMC stood out as a storied darling. A specialist in data storage, the company watched its share price hit a peak of 100—"a complete joke that we all should have shorted," recalls Jerome Heppelmann, CEO of Liberty Ridge Capital in Berwyn, Pa., which has $625 million under management. Now at 13.47, EMC is a Heppelmann favorite, and the stock is up 39% from an Aug. 9 low. Since 2002 the company has quietly doubled its revenues (it boasts an 18% annualized growth rate, tops among its peers), as acquisitions such as RSA Security, VMware, and Documentum have paid off by rounding out EMC's offerings, from storage to security. Plus, the Hopkinton (Mass.) outfit is buying back stock at a healthy clip—at least $3.6 billion in 2006. Heppelmann forecasts that the company will earn 74 cents a share next year (adjusted for stock-option expenses), up 21% from an estimated 61 cents this year. Says Heppelmann, who doesn't give price targets: "It's very cheap. It has a great market share, a great balance sheet, and free cash flow that it's using to buy back stock. The stock can go much, much higher."
Gene Marcial is on vacation.

Gene Marcial's Inside Wall Street is posted at businessweek.com/investor at 5 p.m. EST on the magazine's publication day, usually Thursdays.

Note: Unless otherwise noted, neither the sources cited in Inside Wall Street nor their firms hold positions in the stocks under discussion. Similarly, they have no investment banking or other financial relationships with them.
By Mara Der Hovanesian
Before it's here, it's on the Bloomberg Terminal.
LEARN MORE