LG Unveils Dual-format HD Disc Player
Moon Ihlwan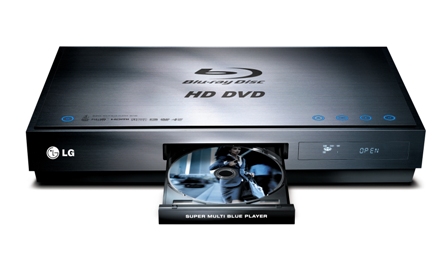 On the eve of the opening of the International Consumer Electronics Show in Las Vegas, South Korea's LG Electronics allowed journalists to have a peek at its new next-generation DVD player (picture above) that supports both formats promoted by competing consortiums led by Sony and Toshiba. The dual-format HD disc player, called Super Multi Blue Player, will be priced at $1,199 when LG launches sales in the U.S. in the first quarter of this year.
LG says, the player – the first one capable of playing Sony's Blu-ray Disc technology and Toshiba's HD-DVD format – is designed to end confusion created by the current rivalry. "Customers are no longer forced to choose between the two formats," says Lee Hee Gook, LG's president and CEO. For more details, see this.
LG will also offer a next-generation optical drive for personal computers in the first quarter of this year. The drive, called the GGW-H10N, can play and record video and audio in Blu-ray, DVD and CD formats and play HD-DVD format. The drive, also priced at $1,199, can record up to 50 gigabytes of data, equivalent to 4-1/2 hours of high-definition video or 22 hours of standard definition video.